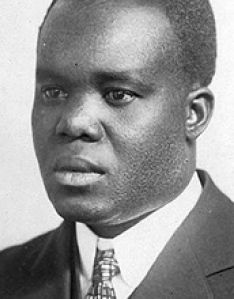 Many Virgin Islanders are aware of the contributions of West Indian writers, artists and activists to the intellectual life of Harlem in the first half of the 20th century. What is perhaps less known is that one of the most influential of them all, the man who has been called "the father of Harlem radicalism," was born on St. Croix.
A new play written and directed by University of the Virgin Islands professor David Edgecombe titled "Hubert Harrison" aims to change that lack of notariety.
Hubert Henry Harrison was born in 1883 in Estate Concordia. His father, Adolphus, had been born a slave. In 1900, at the age of 17, Harrison migrated to New York City, where he would make a name for himself as one of the most brilliant thinkers of his time.
As an orator, educator, writer, editor and political activist, Harrison helped shape some of the most important radical movements of his day before dying during surgery for appendicitis at 44.
Among Harrison's achievements were founding both the Liberty League and The Voice, the first organization and newspaper of the "New Negro" movement of the 1920s (the cultural component of which is often termed "The Harlem Renaissance"). He was also celebrated as an insightful critic and journalist whose articles appeared in widely circulated publications including The New York Times, The Nation and The New Republic.
Edgecombe said he became fascinated with Harrison's story nearly 20 years ago when he learned about his work from Marilyn Bailey, an editor at the Daily News.
"I wrote a story about him then and was so intrigued I thought of writing a one-man show about his life. That idea never left me."
What started as an idea for a one-man show has evolved into a play with more than 20 characters, Edgcombe said. He plans to premier "Hubert Harrison" at UVI Little Theater on St. Thomas from March 20 – 22.
The play will also be performed during UVI's first Literary Festival and Book Fair on Harrison's home island of St. Croix on March 28 and 29. Harrison's biographer, Jeffery Perry, who has described the Harlem intellectual giant as "significantly influenced by his Crucian roots," will present at the festival.
"Harrison was considered the most influential thinker of his generation, which included Booker T. Washington, W.E.B Du Bois and Marcus Garvey," explained Edgecombe. "He is among the top five intellectuals the Caribbean has produced. He was born on St. Croix and most people in the V.I. have never heard about him."
Edgecombe says he wants to bring the story of Harrison's life to the Virgin Islands in an artful way to encourage the community's interest in learning more about this neglected native son.
"The challenge has been how to get to where the historian can't go—into the head and heart in telling an interesting and hopefully deeply moving story," he said
Edgecombe says that rehearsals for the play are under way but there are still roles available for interested actors. He can be contacted at 693-1355. More about the Virgin Islands Lit Fest can be found at www.vilitfest.wordpress.com.