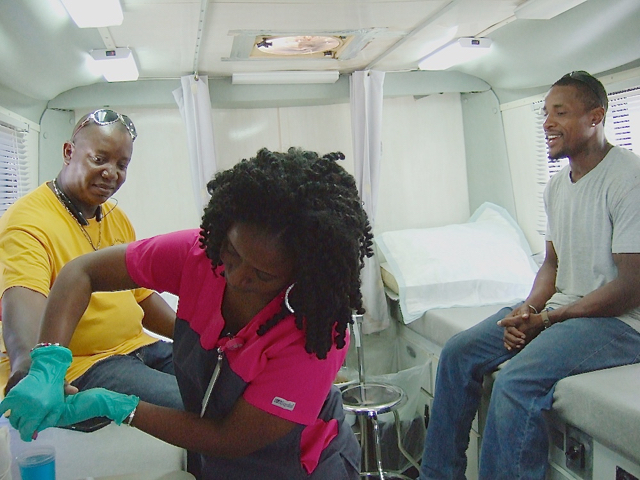 In addition to the usual screenings, people who attended Saturday's health fair at St. Croix Rescue learned about living with autism, natural body and home products, vaccinations and the Senior Medicare Patrol program.
The 10th annual health event, sponsored by the St. Croix Rotary, St. Croix Rescue and Rotary Harborside, was manned by representatives from each organization and staff from the V.I. Departments of Human Services and Health and the Gov. Juan Luis Hospital.
"We saw a need in the community for people to get basic health services," Rotarian David Beck said. "Some can't afford to go to a doctor so they can get basic screenings here and we refer them if they need to go to a doctor,"
Visitors registered and were directed to a variety of services, including glucose and blood pressure screening and HIV/AIDS testing sponsored by VI CARE. Two nurses were stationed in the JFL mobile blood unit to collect blood from those who wanted to donate. Each pint of blood donated saves the hospital more that $200 in purchased blood from Puerto Rico.
Henry James and Jean Washington stepped up to donate blood, but Washington was turned away because he had a tattoo recently. James proudly held out his arm and chanted, "My blood is rich," as Nurse Latoya Martinez rolled up his sleeve.
During the event, Dr. Alberto Corniero, pediatrician and geneticist on childhood genetic diseases and autism, spoke to several groups of educators and healthcare providers about diagnosing and managing Autism Spectrum Disorder. He described some of the early signs of the disorder in infants: no verbalization by 12 months, lack of response to mother's or father's voice and no eye to eye contact by 8 to 10 months.
Corniero said he also talked about the alleged connection between vaccinations and autism, a link he called a myth. Even children with immune and metabolic disorders should be immunized, but maybe on a different schedule, he said.
"They all still need to be vaccinated," he said. "There is no scientific evidence that vaccinating has anything to do with autism."
Other activities included a demonstration by St. Croix Rescue Extrication Special Tactical Team, and Leia LaPlace of Made Ya talking about natural, animal-free products including handmade oils and soaps. There was free literature about many of the health care services available on St. Croix.
According to Rotarians Lionel Downer and Sandra Phaire, about 50 people from 40 to 75 years of age attended the event by noon, including special education teachers who came to hear Corniero's presentation.