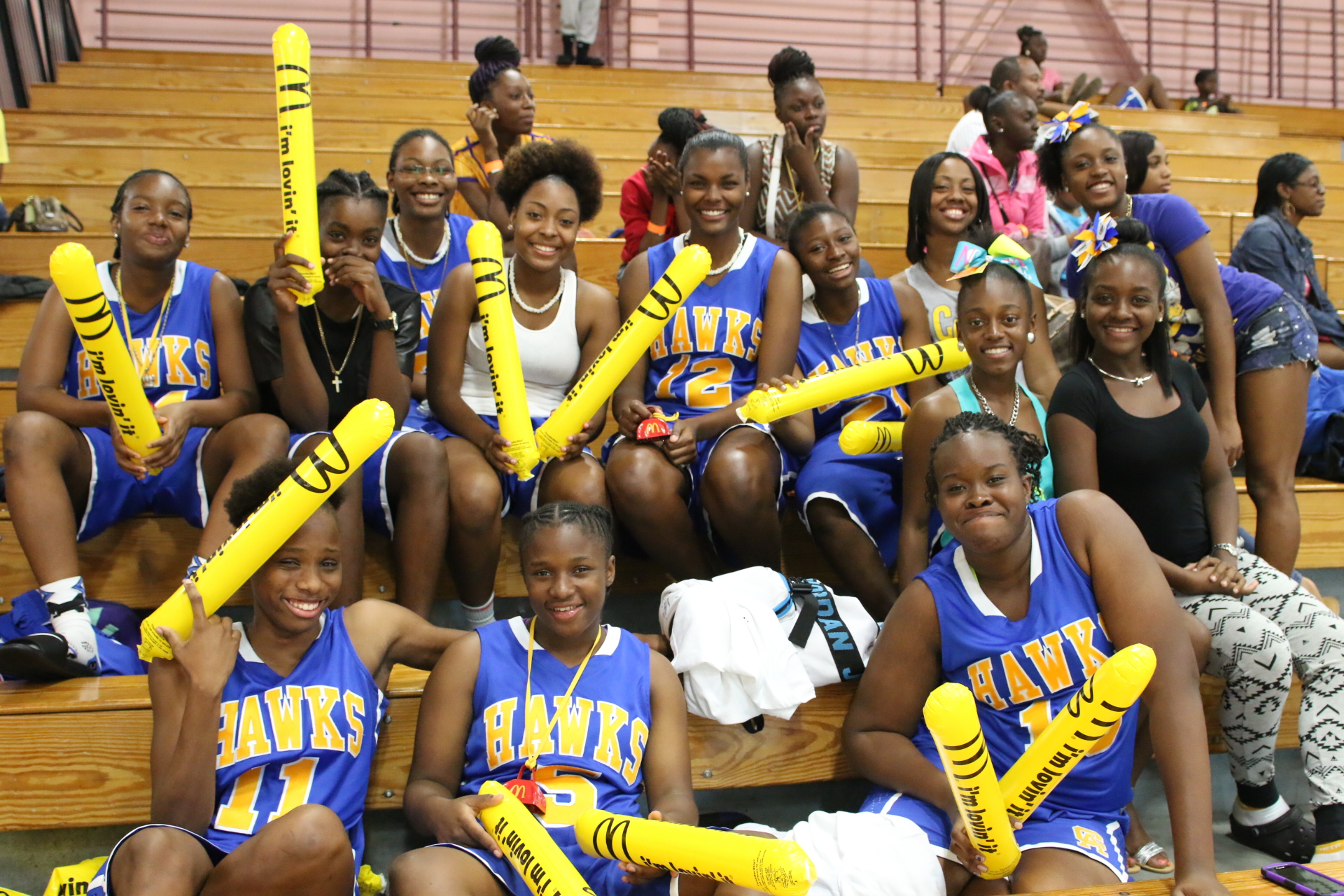 Eleven high school varsity teams from three islands met to vie for championship titles at the IAA/McDonald's Martin Luther King Jr. Basketball Invitational Tournament on Friday, Jan. 16 through Sunday, Jan. 18, at the Ivanna Eudora Kean High School gymnasium.
St. Thomas' Ivanna Eudora Kean High School Devil Rays beat St. Croix's Central High School Caribs for the men's championship 61-52. The Charlotte Amalie High School Lady Chicken Hawks took the women's championship over St. Croix' Central High School Caribs 52 – 36.
Lt. Gov. Osbert Potter and Rose Charles, McDonald's USVI marketing coordinator, were on hand to present trophies and a McDonald's basketball to the winning teams.
"Every team demonstrated athletic excellence and admirable sportsmanship. McDonald's applauds the effort of all the teams, their coaches and the organizers. This was a thrilling three-day event that we were proud to sponsor in our effort to promote active lifestyles and positive community events," said Charles.
The teams included boys' and girls' teams from Antilles School, Charlotte Amalie High School and Ivanna Eudora Kean High School. Three teams traveled from St. Croix, including Central High School boys' and girls' teams, and the Educational Complex High School female team. From Tortola, Elmore Stoutt High School participated with a boys' and girls' team.
Other winners at the invitational tournament included MVPs Jahkeel Stevens of IEKHS and Shirvel Luke of CAHS. Sportsmanship awards went to Jendayi Williams and D'Quane Camacho, both of Central High School.
McDonald's also presented Scholastic Achievement Awards to the student athletes with the highest grade averages. The top male player went to Shivaang Chawla, 11th grader at Antilles School with a 95 percent grade average. The female award went to Kalijah Belardo, 10th grader at St. Croix Educational Complex with a 94 percent grade average. Dana Richardson was also recognized for her dedication to the Inter-scholastic Athletic Association (IAA) and student sports.
"At McDonald's, we are honored to partner with the USVI Department of Education and the Interscholastic Athletic Association as title sponsor for the IAA / McDonald's Martin Luther King Jr. Varsity Basketball Invitational Tournament, an initiative that we feel is an important legacy for student athletes in the Caribbean and the Virgin Islands," said Marisol Vega-Couto, regional communications director for Arcos Dorados. (www.arcosdorados.com)
For more information about the tournament, contact Mark Daniel, IAA president, at 626-4515 or Kenny Todman, IAA commissioner and tournament director, at 642-2156.