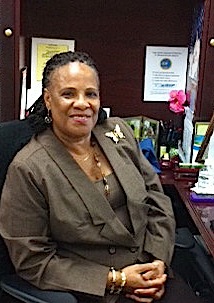 If you want to know anything about the island's public schools, just ask Jeanette Smith Barry. She's spent a lifetime in them, and since 2008 has been the superintendent of the St. Thomas-St. John district.
In the first grade, she was inspired by a caring teacher and her life's path was set.
"I never wavered," Smith Barry said. "I always wanted to be a teacher."
In her early years, she moved several times and sampled several schools. She attended Nisky School, later Ulla Muller, Washington School and Lockhart School. Her high school years were spent at Charlotte Amalie High School. When she graduated in 1969, she was in the top eight of her class.
"I grew up in a poor family; we didn't have money," she said. She was raised by a single mother but her father was "available and present," Smith Barry said, and she was fortunate that he was able to pay for her first semester at what was then the College (now University) of the Virgin Islands.
Then starting in her second semester of freshman year, Smith Barry was able to get a Jane E. Tuitt scholarship that took her through to her degree. Under a special arrangement, she even had the opportunity to spend her junior year at the University of Connecticut.
"That was a wonderful experience," she said. But "that one cold winter in the States" convinced her she wouldn't want to live there.
"I always knew I would teach English," Smith Barry said, and when she graduated cum laude from CVI in 1973, she started teaching at CAHS. She also continued her education and now is just a dissertation away from a doctorate.
She points with pride to her time at CAHS, noting she holds the record as the longest serving administrator at the school. She became assistant principal in 1989 and principal in 1995. She continued to serve in that capacity until she was appointed district superintendent of schools in 2008.
During her tenure at CAHS, Smith Barry said she realized that ninth-graders needed a more nurturing environment so the administration divided them into groups and assigned teachers to work with them. The school introduced block scheduling and also advanced placement.
As superintendent, she initiated University Parents classes is the evenings, offering training in everything from parenting to computer technology.
Three years ago, realizing that one-third of seventh-graders were failing, Smith Barry said she approached UVI about hosting a summer program for them. Since then, the Education Department has been offering enrichment programs for about 50 students each summer. Meanwhile, the department also offers a kindergarten camp.
"We're attacking the problem from all angles," Smith Barry said.
Her biggest challenge is "inadequate resources, starting with human resources," she said.
Other challenges: too many people in the community don't value education; some parents keep their children home from school for frivolous reasons; and some teachers also have poor attendance records.
"That has been upsetting to me," she said.
But she knows she can't be discouraged. "I need to look at the possibilities and not the problems."
"Some days I really do miss teaching," she admitted, but being an administrator has its rewards.
"It's good in that you get to see the bigger picture and you have the opportunity to make a greater impact."
Smith Barry said she's thinking of retirement soon. But her attitude toward the education profession may make it hard for her to leave.
"This is not a job, not just a career," she said. "This is a calling, as far as I see."