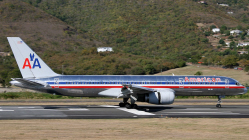 The third day of ice and snow across the southeast and now the northeast United States mainland from Winter Storm Pax resulted in more canceled flights in and out of Cyril E. King Airport on St. Thomas. There are no canceled flights in or out of Henry E. Rohlsen Airport on St. Croix, the V.I. Port Authority said in a press release issued Thursday.
American Airlines Flight 936 arriving on St. Thomas from New York's JFK International Airport was canceled but the two flights from Miami, 943 and 2421, were scheduled to arrive as planned.
According to American's website, passengers traveling Wednesday and Thursday on tickets issued no later than Feb. 11 can change their ticket at no charge provided they travel by Feb. 19.
JetBlue's morning flight 807 from Boston to St. Thomas arrived and departed but the afternoon flight 908 from Boston to St. Thomas and Flight 907 from St. Thomas to Boston were canceled.
JetBlue said on its website that customers may rebook their flights for travel through Tuesday prior to the departure of their originally scheduled flight. Customers with canceled flights may also opt for a refund. Original travel must have been booked on or before Feb. 10.
Delta's Flight 926 from St. Thomas to Atlanta was scheduled to depart at 5:50 p.m. Its Flight 454 from JFK to St. Thomas scheduled to arrive at 1:43 p.m. was delayed by nearly three hours. Flights 925 and 571 from Atlanta to St. Thomas were canceled. Flight 674 from St. Thomas to Atlanta was canceled.
Delta's website indicates passengers may either get a refund of their ticket price or rebook if they were on a canceled flight. Tickets purchased for travel last Tuesday through Thursday must be rebooked by Monday for travel by Monday. If they were on a flight scheduled to depart Friday, they must rebook and travel by the coming Tuesday.
U.S. Airways canceled its Flight 833 from Charlotte to St. Thomas and Flight 808 from St. Thomas to Charlotte. Its website indicates passengers who held tickets for travel last Tuesday through Friday must travel by the coming Wednesday.
United Airlines Flight 1445 from Dulles International Airport in Washington, D.C., to St. Thomas and the returning flight 1443 were canceled. Flight 1519 from Newark Liberty International Airport to St. Thomas and the return flight 1482 were canceled.
United's website indicated passengers have up to a year from the date of issue to use their tickets. The change fee will be waived but passengers will have to pay the fare difference. If they were scheduled to travel Thursday through Saturday, they must fly by Tuesday to avoid paying the fare difference. Passengers who expected to fly last Tuesday through Thursday must travel by Sunday to avoid paying the fare difference.
Spirit Airlines, which flies to St. Thomas from Fort Lauderdale, reported no cancellations.
Winter Storm Pax caused thousands of flights to be canceled across the mainland.
Most of the country has been pounded this winter with storms of various types. According to the Weather Channel, more snow is expected to hit the mid-Atlantic region and New England after dumping snow on the Ohio Valley.