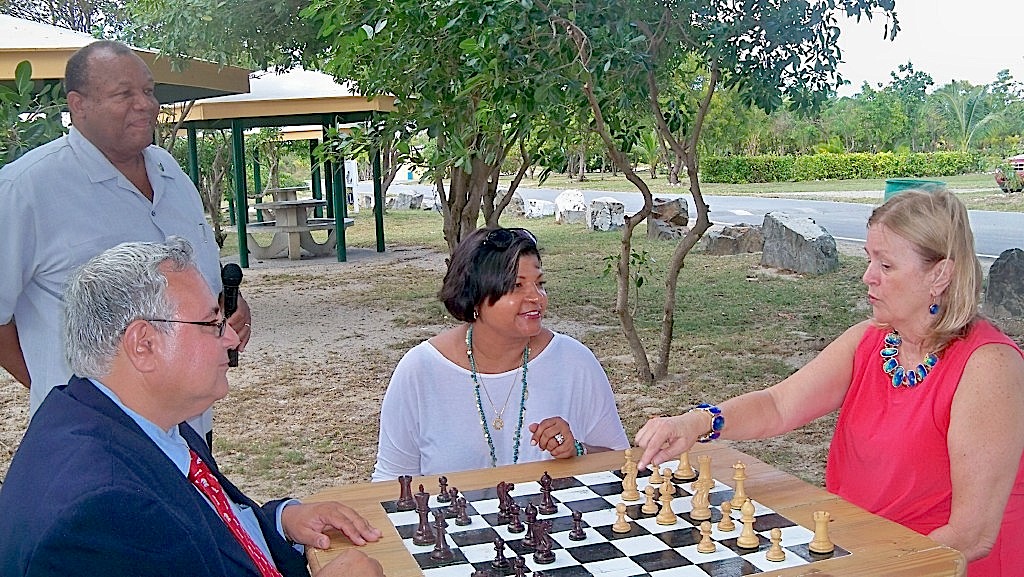 One of the latest chess tables unveiled in V.I. first lady Cecile deJongh's Chess in the Parks Initiative is located in the perfect spot for a quiet game of chess at Susana Ocasio Santana Park.
It is generally a very peaceful place at Altona Lagoon. The waves gently lap at the shore, birds chirp in trees that provide nectar for hummingbirds and shade for people.
On Thursday deJongh remarked that the table's location near the water was beautiful. She said she hopes people of all ages will get outdoors, enjoy the beauty of the park and use the tables.
"One day we hope to have a grand master from here," deJongh said. "Some child can start here and say they began here."
Folks can just bring their own chess pieces and play leisurely in peace in the park.
Margaret Murphy, USVI Chess Federation president on hand for the unveiling, said she is pleased and enthused about the tables being set up around the islands. She added said chess is a game for everyone.
Murphy said she encourages young people to get into "Brain Fitness " and use their brains playing chess. She said it is good to have the tables outdoors where young people are playing – in the hopes they see the game and get engaged in it.
"This is a really great idea," Murphy said. "It's a positive activity outside, just where we want our children, out soaking up vitamin D."
She said chess is great for senior citizens helping them keep their minds sharp, adding that a lot of research shows chess significantly lowers the risk of Alzheimer 's disease. Murphy said she hopes retirees will get out and play in the parks where the tables have been placed.
Murphy envisioned tourists walking through the parks and stopping to watch a chess game or to play and possibly mingle with the local players.
"It 's a game where there isn't any communication, so there aren't any language barriers," Murphy said.
St. Claire Williams, commissioner of the Department of Housing, Parks and Recreation, said the tables and the mental game of chess are a good addition to the physical programs and equipment the department offers in the local parks.
In parks across the territory 18 chess tables are being installed that were made by My Brother's Workshop, a St. Thomas-based nonprofit agency. The tables cost $250 each and are bolted on to concrete slabs.
Most of the tables are from the workshop. On St. Croix four granite tables donated by Amrey/Gemini are to be installed at Limpritch Park in Christiansted before the end of the month.
Other tables unveiled Thursday were at Verne I. Richards Veterans Park and Vincent Mason Coral Resort pool in Frederiksted. Tables were unveiled on St. John and St. Thomas earlier in the week.