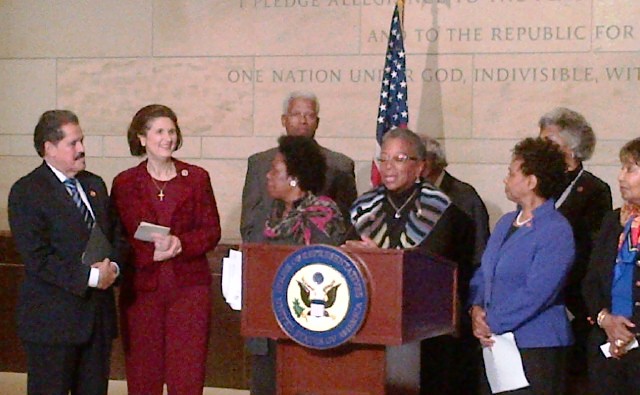 Delegate Donna M. Christensen joined Rep. Barbara Lee (D-TX), Lynda Johnson Robb, the eldest daughter of President Lyndon Johnson, and others in urging more work in the fight to end poverty Wednesday at an event marking the 50th anniversary of President Johnson's declaration of the War on Poverty in Washington.
"The war on poverty must not only be continued, but must be escalated in light of the attacks on the programs that have served to lift millions out of poverty, when the income gap is widening and so many remaining need of a hand up, not a hand out," Christensen said in a statement.
Announced in President Johnson's Jan. 8, 1964, State of the Union Address, the War on Poverty created federal initiatives to eliminate and alleviate poverty as part of the Great Society, including Head Start, Job Corps, Medicare, Medicaid, Food Stamps (now Supplemental Nutrition Assistance Program) and the Civil Rights Act.
"When President Hoover called the Virgin Islands 'an effective poorhouse,' Virgin Islanders were and continue to be outraged by that characterization," Christensen said. "However, what was and remains to be true today is that the income level and quality of life indicators in the Virgin Islands lag behind that of most places in the rest of our country."
She added that while she and the other delegates have worked to close the gaps, and many have improved, she joined her colleagues in the Out of Poverty caucus today to highlight the high level of poverty in the Virgin Islands.
According to the Kids Count Data Center, the rate of poverty among families with related children was 31.4 percent in 2010; among female head of households, that figure climbed to 47 percent. The overall level of individuals in poverty in the territory was 22.2 percent in 2010.
In 2012, Kids Count reported the poverty rate of families with children was 30.3 percent overall but 35 percent in St. Croix. Christensen added that the reported poverty level does not accurately reflect the territory's situation because the high cost of living – 33 percent higher than DC – is not factored in.
Christensen said the territory's LIHEAP allocation was increased, along with Medicaid funding, which will allow more low income individuals to access health care; however, winning this war on behalf of those in need at home will require much more.
"Our poverty level is being re-evaluated to be more reflective of what it takes to live comfortably and with dignity in the V.I. That is a start because I believe it has the capacity to increase levels of federal funding," Christensen said.