When the international and even local anti-apartheid movement began in the 1980s, no one actually knew what Nelson Mandela – its internationally recognized spokesperson – looked like.
"That's because he had been banned – he could not be quoted publicly, his picture could not be published and he couldn't attend public meetings of any kind," attorney Judith Bourne said Friday as she spoke at a legislative ceremony honoring the life of Mandela, whose image she said has now become one of the most significant symbols of freedom of all time.
Talking to a packed audience filled with everyone from students to local dignitaries, Bourne outlined Mandela's life before imprisonment, showing that he had begun sowing the seeds for the anti-apartheid movement decades before he became its leader.
Mandela, for example, was arrested several times before his final imprisonment on Robben Island – the first time serving a two-year suspended sentence for "statutory communism," and the significance of this, Bourne added, was that Mandela was able to show government leaders at the time "the potential power of a militant African leadership and begin the cooperation across international lines of the anti-apartheid movement."
"He was not an apostle of nonviolence," Bourne said. "He was a proponent of the least damaging tactics that would be effective."
As the anti-apartheid movement became international in the 1980s, the Virgin Islands also took up the cause, forming a V.I. Anti-Apartheid Committee (VIAAC) that Bourne said she was "fortunate" to be involved in as a young adult. The committee was responsible for raising the community's awareness of the movement in South Africa and did everything from selling T-shirts to pushing the 17th Legislature to pass a resolution naming the "Nelson Mandela Circle."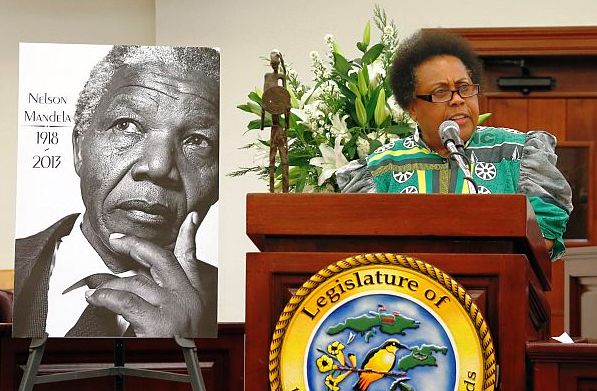 "To the VIAAC, it was important not only because the Legislature passed the resolution that we drafted and memorialized the territory's support of Mandela, but because the campaign itself provided the platform for the VIAAC to publicize and explain the relevance of the struggle in Southern Africa to the Virgin Islands and our small community," Bourne said.
Bourne's words were met by loud applause from the audience, and the rest of the day was filled with similar tributes, both from the oldest to some of the youngest in the audience.
Local historian Sen. Myron Jackson – who organized Friday's ceremony – described Mandela, who died Dec. 5, as "a beacon for justice, racial equality, peace and reconciliation."
"Mandela often said he would be willing to die for what he believed in. Many of us do not have the conviction to die for what we know for justice and equality," Jackson said. "He gave the world an example to follow, that we should be steadfast in our belief for justice, equality and democracy in government, and that every man, no matter the color of his eyes and skin, has the right to be free and a contributing member of society and this planet."
Speaking later to several students in the audience, Sen. Donald "Ducks" Cole also described Mandela as a man that "stood on his values, stood on his ideals and his principals."
"So to the children that are here today, I encourage you to set up your 'VIP' – your own values, your ideals and your principals," Cole added. "That VIP is what should guide you in life – stand up for what you believe in, even if it means incarceration, even if it's death. Use the torch that Mandela lit as the light at the end of the tunnel that will guide you through your journey here on earth."
Mandela cofounded South Africa's first black law firm and, in his 20s, became actively involved in the African National Congress. He formed a military arm of the organization and, in 1962, he was arrested and sentenced to life in prison for conspiracy to overthrow the government.
He would spend the next 27 years behind bars. In 1990, after an international outcry, Mandela was released.
He was awarded the Nobel Peace Prize in 1993 along with President F.W. de Klerk for negotiating an end to apartheid.
Multiracial elections held in 1994 led him to become South Africa's first black president. During his administration he pushed for reconciliation, a new constitution and healthcare expansion. In his later years, he served as an elder statesman doing charitable work, combating poverty and focusing on HIV/AIDS prevention through the Nelson Mandela Foundation, according to release from Jackson's office.