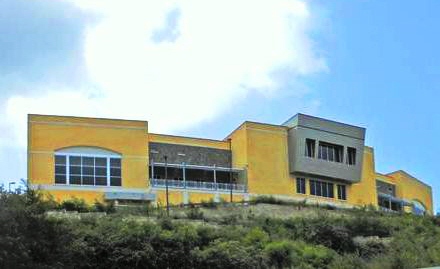 The long-awaited children's room and young adults section of the new Charles W. Turnbull Regional Library will open Wednesday, according to a statement from the Department of Planning and Natural Resources. It will be open for normal library hours: 9 a.m. to 5 p.m. Monday through Friday. The library is closed Thanksgiving but is open Friday.
"In spite of our challenges, there is great progress, and we are very pleased to offer the additional library services to the community," DPNR Commissioner Alicia Barnes said in a statement. Libraries, archives and museums are overseen by a division of DPNR.
The 3,500-square foot children's room is off to the right of the main lobby. On one side sit upholstered wicker hassocks with big soft pillows. On the other are brightly painted child's reading tables.
"Children and young adults can peruse several thousand wonderful books in a very comfortable and inviting environment at the new library," said Ingrid Bough, Territorial Director of Libraries, Archives and Museums. "A Children's Candyland Christmas fun day will be announced in mid-December," Bough said.
A grand opening is being planned and will be announced to the public in the very near future, along with new library hours, according to DPNR.
The Von Scholten Collection, with more than 28,000 books, documents and artifacts of the colonial era, will be opened by appointment only on Mondays, Wednesdays and Thursdays from 9 a.m to 4:45 p.m., excluding microfilm and microfiche access.
The Charles Wesley Turnbull Regional Library is located at the northern end of Tutu Park Mall. Public access to the library is through the gated driveway entrance at the northeast corner of the Plaza Extra parking lot.
The government broke ground on the Turnbull Library in 2006, completing it in 2012. The Enid M. Baa Library's contents were moved to the new library earlier this year. It had a soft opening in June, with only the adult reading room available to the public.
For more information, visit the Virgin Islands Public Libraries' website at www.virginislandspubliclibraries.org