Most of the recent homicides and crimes of violence that have taken place in the U.S. Virgin Islands have been witnessed – and those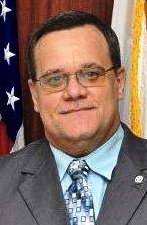 witnesses could help law enforcement bring the malefactors to justice if they would report what they know and stop making things harder for police by removing evidence, Police Commissioner Rodney Querrard said in a statement released Tuesday.
"Over the recent months we have seen an increase in shooting incidents here in the territory," Querrard said in the statement, which can be listened to here.
"It is disturbing to know that in many of the cases bystanders – associates, family and friends of the deceased or injured – are removing firearms and other evidence from the deceased or injured person or crime scene prior to police arriving on the scene."
Coupled with witnesses who do not come forward to report what they've seen, this makes it harder for investigating officers to investigate the crimes. This happens even when the witness' own family member has been injured or killed, the commissioner said.
"We understand the concern some may have in coming forward with information on a crime that took place. We are finding, though, that some of the very same people who are withholding information, even if the information would bring closure to a murder investigation involving their family member as a victim or suspect, are either becoming victims themselves or are being suspects in crimes that occur after the initial incident," Querrard said.
The commissioner said it's time to put aside thoughts of personal retaliation and become part of the solution, instead of drawing the problem out even further.
"Two wrongs don't add up to a right no matter how many times you add it up," he said. "Families are losing their loved ones, one by one, because of this one word, retaliation. When will this end? When will people realize this is putting their entire family and anyone in their presence in jeopardy?"
"As a result of this ongoing retaliation, innocent bystanders are being seriously hurt or killed. This in turn begins another spiral of retaliations involving other families," Querrard said.
The commissioner added that some business owners and managers where some of the incidents have taken place actually condone violence by their actions or lack of actions.
"Moving those involved in a disturbance outside or turning a blind eye to a disturbance and not notifying law enforcement only leads to the matter resulting in people being seriously hurt or worse," he said. "Illegal activity is being condoned by some employees, including security, at some of these late night businesses."
Querrard said the V.I. Police and other departments and agencies with oversight of the licensing process will "closely monitor" these businesses to ensure that all necessary requirements and obligations are met. Failing to follow protocol will result in a recommendation for the revocation of the license to operate, he warned.
"We, as a community, are hurting," he said. "We are being terrorized by a small few who have no regard for their safety, their families' and loved ones' safety, and for everyone else's safety."
The commissioner said personal responsibility extends to watching out for our friends and helping keep them out of harm's way.
"Look out for your friends and loved ones. If a situation arises, try and get him or her to leave the area before the matter gets out of control, leading to someone getting seriously hurt or killed," he said. We have to "take whatever steps necessary to deter this ongoing disregard for life and property."
Police officers cannot be everywhere, he said, adding, "The reality is our fellow citizens are, in most instances, present when these serious crimes occur. Officers will continue to conduct as many inspections as possible at the businesses in question. We will continue to follow up on every lead no matter how insignificant the person giving the information feels it is."
He recommended citizens who don't want to deal directly with police call Crime Stoppers USVI, an anonymous tip service that can be reached by calling 1-800-222-8477, or online at www.crimestoppersvi.org.
Crime Stoppers can earn tipsters cash rewards of as much as $2,500. Since its inception four years ago the service has paid out more than $60,000 in rewards, according to its website.