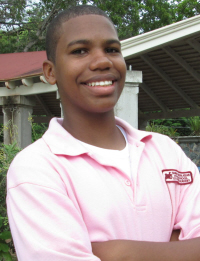 St. John resident Marc Durand, 15, aims high.
"I plan to be a veterinarian," he said.
A freshman at Eudora Kean High School on St. Thomas, he takes the science and math classes necessary to help him meet that goal. He said it was important to set goals.
"As you achieve those goals, you should make other goals," he said.
He joined the Coral Bay Job Club during the summer to give him a boost in learning about the world of work.
"I learned to be more outspoken, be bold and how to be more prepared to get a job," Durand said.
He said he also learned the importance of team work at the Job Club.
Bonny Corbeil, who ran the program for about a dozen students from St. John and St. Thomas, said Durand understands the importance of a positive attitude.
"He is personable and always has a wonderful smile to share. Marc speaks well-and has wonderful manners," Corbeil said.
For the upcoming winter season, Durand hopes to get a job as a bus boy at one of the island's restaurants.
"I'll try my best to work my way up," he said.
He already has some work experience gained by helping out with things like taking out the trash and putting away instruments at St. John Dental.
His mother, Sabrina Durand, works there.
She said she was a grateful that he son was such a "good kid."
"He's very obedient and a great son," she said.
Durand lives with his mother and stepfather, Clayton Brown, in Grunwald, a neighborhood a lot closer to Cruz Bay than Coral Bay. Corbeil said Durand depended on the VITRAN bus to get him to Guy Benjamin School in Coral Bay for the Job Club. She said that when the bus ran late, he always called to let her know.
Durand moved to St. John from his native Dominica four years ago. He lived with his grandparents in Atkinson, Dominica while his mother settled in to St. John, then headed to St. John for better school opportunities.
According to Durand, St. John was very welcoming and he was able to make new friends easily.
He has a sister Salima Symes, 25, and a brother Kahil Georges, 30.
He attended Julius E. Sprauve School for the first three years he lived on the island, moving on after graduation to Kean in September. He said at both schools, the teachers were helpful and friendly.
At Kean, he belongs to the Junior ROTC.
He had advice for those St. John students who will be making the trip next year to high school on St. Thomas. He said they should stay focused on their work and don't be distracted.
"Sit at the front of the class," he said, adding they should always do their homework.
He also advised them to pick their friends carefully.
When he's not at school or on the ferry that takes St. John youths to and from school on St. Thomas, – he gets up at 5:30 a.m. – he helps out at Coral Bay Baptist Church and participates in the church's youth group.
"And I go to the beach. My favorites are Maho Bay and Oppenheimer," he said.