A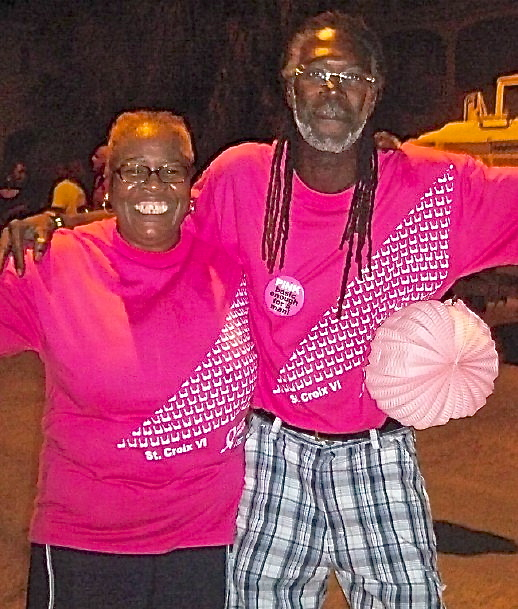 wave of several hundred people – mostly wearing pink – danced and marched to the rhythm of quelbe music as they swarmed through Christiansted Saturday, made King Street look like a holiday tramp, but though they were having fun, they were there for a more serious purpose – to spread awareness of breast cancer.
People carried glow sticks and battery powered white and pink paper lanterns. Over their shirts, women, men and children wore pink bras decorated with flashing lights, feathers, beads and sequins.
The St. Croix Unit of the American Cancer Society sponsored the second "Making Strides Against Breast Cancer" walk to raise awareness that early detection saves lives.
Vivian Furet, coordinator of the walk, said the money raised from the $10 registration fee will stay in the territory. The funds will help cover the cost of mammograms and follow up care for women who can't afford health care.
"The turnout tonight was fantastic," Furet said. "It was every thing we hoped it would be. It was a fun way to raise awareness."
People were very generous with donations, she said, adding that with all the support they received last year they were able to cover 100 mammograms.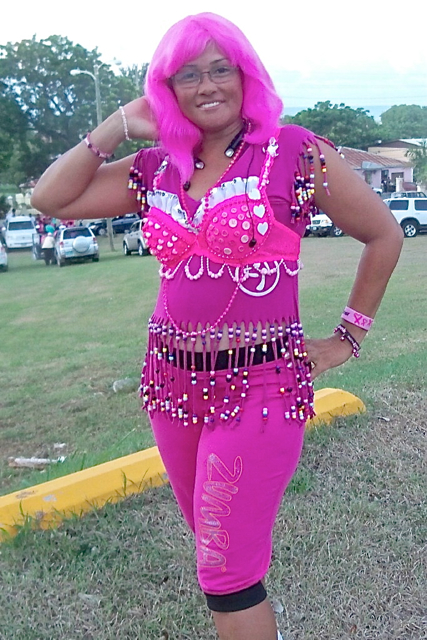 Christine Aubain, from the St. Croix American Cancer Society, said it was nice to see so many people out, showing that there is increasing awareness.
"It is important that the community joins forces to increase awareness that men and women both get breast cancer. And we need to increase awareness that early detection through mammograms saves lives," Aubain said.
Jahlisa Maragh, from It Works nutrition, said she walked with her lady friends because it is important that people come out and show their support for the cause.
Linneth Mercado, an American Cancer Society Relay for Life volunteer and eight-year breast cancer survivor, said it was great to see the event was so big with so many people coming out.
The walk started at the Fredensthal Moravian Church, led by the quelbe music of Stanley and the Ten Sleepless Knights. It ended at the Christiansted bandstand where cancer survivors were treated to healthy snacks and drinks. After the march Eddy Russell and his band entertained the crowd on the lawn at Fort Christiansvaern.