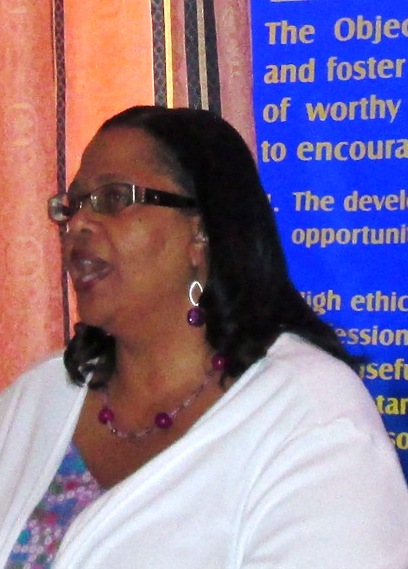 The Women's Coalition of St. Croix, which provides an array of services for victims of violence on the island, is barely scraping by, and only thanks to revenue from its thrift store, because the federal grants it relies on have been delayed, according to Executive Director Clema Lewis.
Despite its financial travails, which come on top of a devastating fire in 2011, the Women's Coalition's doors are open, its hotline is ready for calls 24 hours a day, and it's holding marches, rallies and fundraisers in October for Domestic Violence Awareness Month, Lewis told Rotary of St. Croix Thursday at Gertrude's Restaurant. The Women's Coalition also continues to run afterschool and summer school programs.
"We provide services to between 6,000 and 10,000 people every year," Lewis said. "Most people believe we are just about domestic violence but we provide assistance for all crime victims."
Lewis said the Women's Coalition has helped with funerals of homicide victims, counseling for survivors of homicide, and teaching victims how to look for a job and become independent, among its activities, and whatever other needs they are able to fulfill.
"As long as they are a victim, we provide services as well," she said.
The Women's Coalition provides counseling, clothing, food, rides to doctors, help making appointments with Human Services and other help.
"We are the only agency that has transitional housing in the territory," Lewis said.
But between depressed economic conditions and a long delay in getting federal funding from Violence Against Women Act and Victims of Crime Act grants, the agency is struggling to keep its doors open.
"It's not just us; it is all the nonprofits. There is $293,000 we are not getting," Lewis said.
The Women's Coalition used to be able to help some with rent and utilities but, without federal funding, has had to stop for now. "But we still help with shelter and food," Lewis said.
The V.I. Law Enforcement Planning Commission manages the VOCA and VAWA grants. Those grants were held up due to the V.I. government being behind in submitting an annual audit report for 2011.
Since then, during budget hearings in late August, Angela Campbell, LEPC director of victim and witness services, said the grants had been applied for, but the federal schedule had changed, so the money is likely to be approved and released later in the year, but when and if those grants came depended on the federal government.
Fortunately St. Croix residents coming to the Women's Coalition's thrift store have helped to fill the gap.
"Our thrift shop, Closet to Closet, is very popular, thank God. It is keeping our doors open," Lewis said. "Had we not entered this business endeavor, we would have been forced to close," she added.
The store, located at No. 15 Peter's Rest, recently added a home store with furniture, she said, urging people to come out, look around and shop.
Financial struggles aside, the Women's Coalition has a busy schedule for October, which is National Domestic Violence Awareness Month.
On Oct. 19 from 9 a.m. to 3 p.m. the coalition is holding a supermarket campaign at Kmart West and Plaza East, urging shoppers to buy diapers, toiletries and other essentials that many of their clients need.
"We stand outside with a list of things we need and ask people to buy us something on the list," she said.
"I have to say it's amazing how generous people have been," Lewis said of the last campaign, held Saturday.
On Oct. 24, the coalition will hold its annual "Take Back the Night" silent march and rally, starting at 5:45 p.m. at Sunday Market Square and going to the Christiansted waterfront. There is a backup rain date of Oct. 31.
"It's a really nice event. We march silently and every nine seconds a bell rings to mark another person who has died because of domestic violence," Lewis said.
There will be a wrap-up ceremony and a raffle at the Women's Coalitions' offices at 45 Fisher St. at 2 p.m. Oct. 31.
For more information on the Women's Coalition of St. Croix, the open house and upcoming events for Domestic Violence Awareness Month, please contact WCSC at its hotline 340-773-9272 or email info@wcstx.com.
Information can also be found at www.wcstx.org, www.fb.com/WCSTX and www.pinterest.com/wcstx.