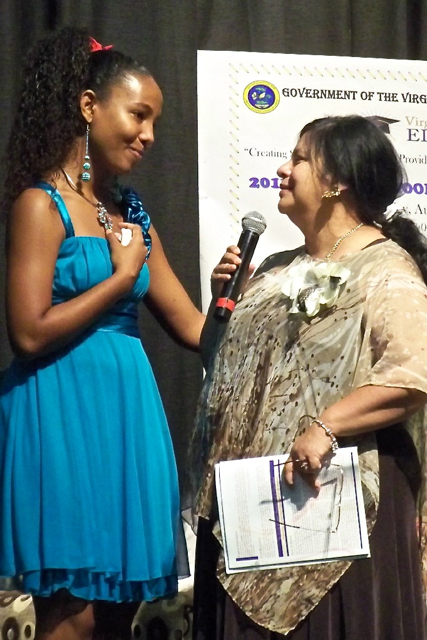 Retired Lt. Col. Consuelo Castillo Kickbusch gave a passionate presentation Sunday to about 100 parents, teachers, administrators and children at the third annual Department of Education's Back to School Parental Conference.
During her presentation in the St. Croix Educational Complex auditorium the audience roared with laughter and shed a few tears.
Kickbusch, a motivational speaker, said she is familiar with the challenges of poverty, discrimination and illiteracy. She was born and raised in a small barrio in Laredo, Texas. She said although she grew up without material wealth, she was taught by her immigrant parents that she was rich in culture, tradition, values and faith, just as the children on St. Croix have been.
She told touching and emotional stories of her relationship with her mother and her father, who called her angel on earth.
"You have to have faith and accept where you come from to know where you are going," Kickbusch said.
She suggested that people give up their emotional scorecard.
"Stop gossip and jealously because we are all St. Croix," Kickbusch said. She encouraged parents to rise to the highest level and be role models.
She said parents should not give things, but give their children values so they will always have a moral compass.
She said she wore other people's clothing and cardboard in her shoes, but her father gave her attitude in the right way. She said children want to see love in their homes and parents should not go to sleep with their emotional scorecard.
Kickbusch said children want love and they want to be understood. They also want patience and to succeed in life.
"They don't want toys," Kickbusch said. "They want your time. And tell them what's in your heart for them."
"Our children should be the center of our lives," Kickbusch said as she placed her necklace on Jolisa Gift, a 9-year-old from the audience. "Never believe things are more important."
Back in 2009 she gave her necklace to America Estepan, the sixth-grade valedictorian from Alfredo Andrews Elementary School. She had connected with Estepan and even went to her home to meet her parents. Estepan, now a junior at Complex, surprised Kickbusch by showing up and wearing her necklace. Kickbusch was moved to tears to see Estepan. Estepan said she had often wondered over the years if Kickbusch remembered her.
The Rev. John Briscoe, a local parent, said the program's message was very uplifting and encouraging.
Paul Fleming, PTA president at Ricardo Richards Elementary School, said the presentation was inspiring, focused and timely.
"She's a dynamic leader speaking from experience," Fleming said. "I feel she communicated with and reached the people. By giving analogies she brought it home to the audience."
Throughout Kickbusch's career, she has shared her personal knowledge on becoming an effective leader with hundreds of schools, colleges, universities, corporations, and government institutions.
After graduating from Hardin Simmons University, Kickbusch entered the U.S. Army as an officer and served for two decades. During that time, she broke barriers and set records in the military, where she became the highest-ranking Hispanic woman in the Combat Support Field of the U.S. Army.
When the opportunity arose to assume a command post she shocked the military by deciding to retire. She chose to honor her mother's dying wish – for her to return to her roots and become a community leader. In 1996 Kickbusch founded the human development company, Educational Achievement Services, to fulfill her mission of preparing tomorrow's leaders.
Remarks were given by Delegate Donna Christensen, Insular Superintendent Gary Malloy, Sandra Phaire and Carmen Miray-Dominguez, parent representatives. Kaleema Al-Nur, a law clerk for Judge Denise Hinds-Roach and Dodson James also gave remarks. Radio personality Rashidi Clenance was the master of ceremonies.