For what appears to be the first time, a group comprising members of the marine industry and government representatives have joined forces as the V.I. Marine Economic Development Council to develop what was once a lucrative industry across the Virgin Islands.
The council will advise the governor and work with government departments and agencies on implementing policies and programs that will help grow the economic base of the territory's maritime industries.
"The V.I. Marine Economic Development Council will study how we can better take advantage of our territory's greatest natural resource – the beautiful coastal waters, the fisheries, and unique marine environment that surrounds our islands – by working closely with those individuals and businesses that can ensure our effectiveness in this area," the governor said in a press release issued Tuesday.
"This is a highly competitive area within our region and one that we must develop to broaden our portfolio of offerings but also expand our economic base. We must find an approach that allows us to capture the beauty of our natural resources while expanding on its contribution to education, job creation and small business opportunities," he continued.
The marine industry has organized before but the long-defunct V.I. Marine Industry organization and its successor, V.I. Marine Association, were comprised of those in the marine industry working on their behalf without help from the government.
Paige Passano, who is the manager at Budget Marine on St. Thomas, sees that combining industry and government forces will be more effective. "Where and what do we need to do to promote growth. That is what I hope the council will do," she said.
In addition to Passano, the council included familiar faces in the marine industry. The private sector members include marine support business owner Larry Angus, game fishing boat business owner Red Bailey, V.I. Game Fishing Club stalwart Sue Boland, marine business owner Jeanne Brennan, former St. Thomas Yacht Club Commodore William Canfield, Gold Coast Yachts owner Richard Difede, marine tour operator Paul Doumeng, captain's school owner John Holmberg, V.I. Charteryacht League Director Kelly Kiernan, St. Thomas commercial Fishermen's Association President Julian Magras, marine manufacturing owner Evelyn Nye, Green Cay Marina operator Martin Oliver, Dive Experience owner Michelle Pugh, St. Croix Yacht Club member Julie San Martin, St. Croix commercial Fishermen's Association President Edward Schuster, marine tour business owner Miles Sperber, dive business owner Andre Webber, and marine support business manager Leonard Weekes.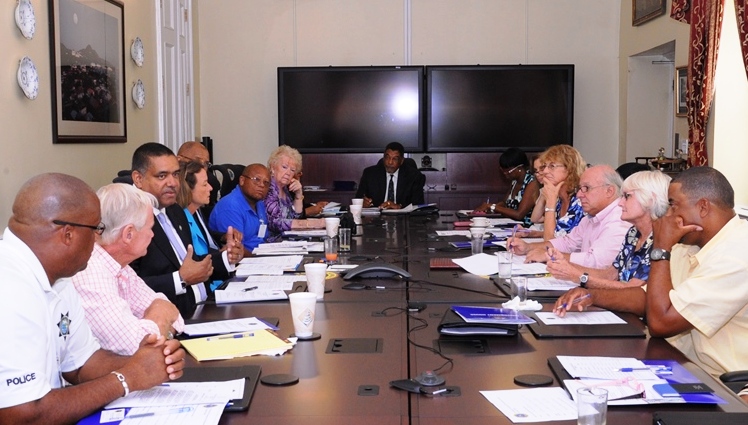 There are currently no members from St. John, but Colette Monroe, who serves as a Government House policy advisor, said that Government House is now "reaching out" to a St. John resident for inclusion on the council.
In addition to Monroe, government representatives include Planning and Natural Resources Commissioner Alicia Barnes, Bureau of Economic Research Director Wharton Berger, Economic Development Authority Executive Director Percival Clouden, the Education Department's Career and Technical Education Director Edwardo Corneiro, Planning Enforcement Chief Howard Forbes, and Tourism Commissioner Beverly Nicholson-Doty.
Decades ago, the territory's marine industry had a huge term charter industry that attracted vacationers who wanted to spend a week or more sailing with a captain at the helm and a cook in the galley so they didn't have to do all the work. Passano said that has changed, with many of the term charter boats moving to the British Virgin Islands because that government made it attractive for them to go. Instead, the number of day charter boats increased.
"The industry has morphed," Passano said.
Additionally she said catamarans became more attractive as term charter boats. Those boats could take eight passengers but federal regulations allow only six. However, the nearby BVI rules allow boats to carry eight people, which Passano said was another reason for the boats to relocate.
According to Monroe, a slew of issues helped bring about the troubles in the marine industry. For starters, she said, Tropical Storm Klaus took out about 200 vessels in St. Thomas Harbor alone. And the federal Tax Reform Act of 1986 changed the allowable deductible expenses for charter boats, causing more, particularly bareboats, to leave the industry.
"There had to be a genuine expectation that you would make money," Monroe said.
Then there was the February 1986 oils spill that impacted both Crown Bay and Long Bay, causing significant damage to the marine industry, Monroe said.
Hurricane Hugo in 1989 decimated St. Croix's marine industry as well as the charter boats from across the Virgin Islands that took safe haven in nearby Culebra, Puerto Rico. That was followed in 1995 by Hurricane Marilyn, which hit St. Thomas and St. John the hardest.
The governor established the council through executive order, and the representatives from the maritime industry and government agencies he appointed held their first meeting recently at Government House on St. Thomas.
According to the press release, among the council's first priorities was to outline economic and regulatory obstacles affecting the vitality of the territory's maritime industries. The council will assess the economic indicators for these industries and identify opportunities to develop diving, charter yachting, fisheries, marine education, marine manufacturing, marina operations, sports and game fishing, and tour operators.
In its first meeting, the council set a goal to identify employment opportunities and educational requirements for Virgin Islanders who want to pursue work in maritime industries.
"The job opportunities are there but the students need to be trained," Monroe said, listing numerous jobs including metal fabricating that are needed in the marine industry.
The council also hopes to inspire a passion for water-based activities for young Virgin Islanders, especially emphasizing programs that teach kids to swim.
The council's work will guide the territory's efforts to lobby for legislation at the federal and local level.
The press release indicates the council will strive to develop amicable working relationships with government regulators and seek to balance environmental and ecological mandates with measures to enhance the Virgin Islands' marine-tourism product and economically grow the territory's maritime industries.
At the meeting, each member was asked to review the "Six Passenger White Paper" being submitted to the territory's Washington lobbyist. The document summarizes the U.S. Virgin Islands' need for an exemption from the inequity of a six-passenger limit on uninspected U.S. based vessels – foreign vessels of the same caliber operate without the same restriction.
Monroe noted that, although St. Croix has world class diving accessible right off the beach as well as by boat, the island has no decompression chamber needed should divers get the bends. Presumably divers concerned with safety go elsewhere.
"That's a lost opportunity," she said.
Passano hopes the council will take up DPNR's proposal to increase mooring fees. She said that in particular, Planning wants to change the provision that gives yachts two weeks to visit the territory without getting an anchoring permit.
She said that the government of St. Maarten tried that approach, and it "wreaked havoc" in the entire economy because yachts stayed away.
Difede said he is grateful that the governor and the Legislature see the value of the territory's marine industry. He said economic and workforce development, as well as tourism, was issues on the council's front burner.