At a time when more than $6 million in budget cuts have put a strain on spending, the University of the Virgin Islands is looking to make up "some of what has been lost" with the construction of solar facilities on St. Thomas and St. Croix that would cut energy costs by nearly $1 million each year, according to UVI President David Hall.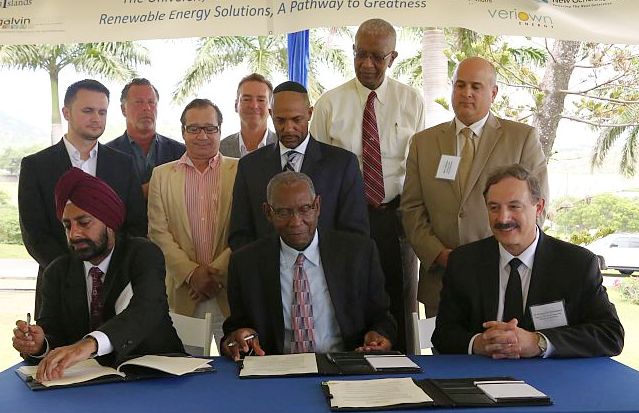 Hall joined a group of energy experts, UVI faculty and local dignitaries for a small ceremony Wednesday that made official a partnership with Next Generation Power, an Illinois-based company that Hall said would help the university delve into the renewable energy world by both reducing UVI's dependence on fossil fuel while teaching students and staff more about new developments in the energy field.
After years of pursuing wind power, Hall said UVI found more consistency in solar energy and will be working with NGP, which will be creating a local subsidiary, Veriown Energy, that will construct and maintain two photovoltaic systems on UVI's campuses that will generate up to three megawatts of power.
"Many individuals, for years, have escaped to the Virgin Islands for the sun and now we will use the sun to escape the high cost of energy, to escape the negative effects of fossil fuel emissions and to escape the mental prisons of how we see and use energy in the world," Hall said.
The power purchase agreement signed Tuesday by the two entities is for 20 years and, in exchange for covering the build-out, Veriown will sell UVI power at a "significantly lower rate" that what is currently charged by the V.I. Water and Power Authority, officials said.
The systems should go live by the end of the year and are expected to cut UVI's dependence on fossil fuel in half by 2015. Hall added that, along with the fuel and financial benefits, the agreement with Next Generation and Veriown will allow UVI to become a good steward of the environment; give students and staff the chance to work within new renewable energy labs provided by Next Generation (one each for St. Thomas and St. Croix, along with a mobile lab for St. John); and take advantage of a partnership with the Robert W. Galvin Center for Electricity Innovation at the Illinois Institute of Technology.
Speaking during the ceremony, Galvin Center Director Mohammad Shahidehpour – who is part of the Veriown advisory board – said a microgrid is designed to maximize energy efficiency and reliability.
"It can transform a campus and I hope to come back soon and see UVI running the same way," he said.
Next Generation USVI President Phil Fisher said the energy site on UVI's St. Thomas campus will be built on a 4.2 acre location near the Penha House security station, while St. Croix's facility will be housed on 3.9 acres near the campus soccer field.
"The sun is a source of power that, if harnessed properly, can change the paradigm of how we look at energy," Fisher said.