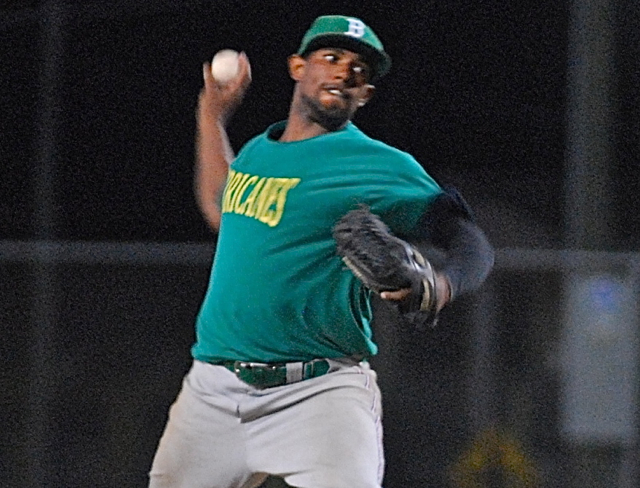 The 40 Plus Hurricanes moved to within one win of claiming their first ever Raphael Jackson AA baseball championship Saturday after Aneuris Mercedes turned in his second complete-game pitching gem of the 2013 playoffs at the D.C. Canegata Ball Park.
Mercedes allowed one earned on four hits and struck out seven batters in the 8-2 victory over the Vikings.
The Hurricanes stood ready to wrap up the best-of-five series Sunday.
After two scoreless inning the Hurricanes scored all the runs Mercedes would need in the top of the third, erupting for five runs on RBI singles by Duane Brannigan, Tony Cruz, Tony Cruz Jr., Enrique Soto and Fernando Quizada.
Meanwhile Mercedes kept the Vikings hitters off balance from the first inning, holding the, scoreless until the fifth when the Hurricanes gave up two run on an unearned run and an RBI single by Ajani Dowdy.
The score would stay that way until the top of the seventh, when the Hurricanes picked up a run on an RBI single by Quizada to extend their lead to 6-2. They then wrapped up the scoring for the game with two more runs in the top of the eight on an RBI single by Tony Peguerro and a sacrifice fly off the bat of Tony Cruz Sr. for an 8-2 lead.
Mercedes looked extra-energized in the bottom of the eighth as he took the mound and responded by striking out the side.
Both teams went down quietly in the ninth and Hurricanes celebrated their second win of the series, needing only a win Sunday to take the title.
Mike Slayjak got the loss for the Vikings. Top batters for the Hurricanes were Quizada, 3 for 5 with two RBIs, Peguerro, 2 for 3 with one RBI, Cruz Sr., Cruz Jr. and Marcus Knight, all 1 for 3 with an RBI each, and Rodney Raphael, was 2 for 5. For the Vikings Justino Navarro and David Clarke were both 1 for 4, Jahmoy Williams 1 for 3 and Dowdy was 1 for 3 with one RBI.