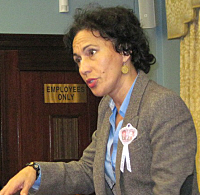 Senators met with the territory's top educators for a wide-ranging discussion of charter schools, bullying and school nurses Monday at a hearing of the Committee on Education and Workforce Development on St. Croix.
A bill written by Sen. Nereida Rivera-O'Reilly would give the territory the ability to open charter schools.
Lisa Grover, senior director for the National Alliance for Public Charter Schools, a national lobbying group, attended the hearing to supply senators with information on how other states have implemented similar charter school laws.
Much of her presentation was spent explaining what exactly charter schools are and dispelling myths.
She said the schools would still be publicly funded and would be open to any student. She stressed that these are not magnet schools; federal law forbids any testing requirements for entry to a charter school.
She said charter schools differ from conventional public schools in that they are exempted from certain local regulations in order to give them greater flexibility and freedom to experiment with new educational theories and practices.
Grover said that charter schools have had mixed results across the country, with some performing above average and others below. She stressed that they were not a cure-all. Rather, they simply provided greater educational opportunities to parents and students.
"Charter schools are about choices," she said.
They would also provide greater accountability, she said. Charter schools operate on five-year contracts. If they fail to produce results, she said they could, and should, be closed.
Senators expressed support for injecting great flexibility and accountability into the public school system, but several voiced concerns about whether or not charter schools were the right path.
Sen. Janette Millin Young questioned whether charter schools may be too cumbersome for the relatively small size of the territory's public school systems. According to Grover, in many other states, charter schools are overseen by their own board, separate from the general school board. Millin Young said it might prove too expensive to manage a second system for one or two charter schools.
Sen. Terrence Nelson followed this line of questioning, saying that he generally approved of charter schools. He said that if it was simply a question of whether or not to provide parents with more educational choices, "I think the easy answer is yes."
However, Nelson said it would be up to the legislature to conceive of a fair implementation plan that would allocate resources fairly without "crushing" the existing public school system.
O'Reilly agreed that there were many questions left to be answered about the role of charter schools in the territory and that she looked forward to future hearings to explore the issue further.
"This is a process and it's just beginning," she said.
The bill was held in committee for further discussion. Voting to hold the bill were Sens. O'Reilly, Millin Young, Judi Buckley, Myron Jackson, Tregenza Roach, Sammuel Sanes, and Donald Cole.
The committee also heard a bill proposed by Sen. Diane Capehart that would mandate the creation of an anti-bullying and gang resistance policy throughout the territory.
Several educators spoke in favor of the spirit of the bill, but took issue with elements of it because such a policy already exists and the law could confuse certain aspects of it—most importantly, its funding.
St. Croix Superintednent of Schools Gary Malloy pointed out in his testimony that if the Senate mandated anti-bullying training through legislation, the Department of Education would lose the ability to use federal grant money for their existing training program because federal auditors would consider their funds to be "supplanting" a local initiative.
Acting Commissioner of Education Donna Frett-Gregory later expanded on this point, explaining that under the rules of their grant, federal funds could not be used to fund a locally mandated initiative.
"If the state says it's mandating this, then the state has to fund it," she said.
Malloy said on St. Croix alone, the Department of Education uses $275,000 in federal money for their anti-bullying program. If the law was passed in its current form they would have to find local funds to replace that grant money, he said.
Capehart defended her bill, saying that by having an anti-bullying mandate written into law, it ensured the program would continue regardless of who was in charge of the department in years to come.
Frett-Gregory agreed, and said that if the part of the bill mandating education for teachers was dropped, they may still be able to use federal funds to do so. She would not guarantee that was the case, however.
The bill was held in committee for further discussion. Voting to hold the bill were Sens. O'Reilly, Millin Young, Buckley, Jackson, Roach, Sanes and Cole.
The committee heard a third bill that would mandate every school in the territory to employ at least one certified nurse assistant, licensed practical nurse or emergency medical technician as a school nurse. Each school district would also have to employ two registered nurses to oversee these CNAs, LPNs and EMTs.
At the beginning of the hearing, Sanes said he intended to amend the bill to remove any mention of CNAs, LPNs and EMTs. Instead, the law would mandate that every school hire its own RN in order to meet national recommendations for school nurse care.
Again, educators present applauded the spirit of the bill but questioned the details.
Frett-Gregory acknowledged that the territory was in the midst of a major school nurse shortage, with nine unfilled positions in the St. Thomas/St. John district.
The St. Croix district recently filled its last openings, but two schools were overseen by LPNs rather than RNs, which would be insufficient under the terms of Sanes's bill.
She said the Department of Education has been consistently trying to fill these openings, but due to provisions in their collective bargaining agreement with the teachers' union, they were forbidden from paying the nurses salaries that were competitive with what they could make in a hospital or clinical setting.
Frett-Gregory made it clear that passing the law would not change this fact or make it any easier for the department to recruit RNs.
She asked that the bill be tabled and that the Department of Education be given time to work with the Department of Health and the Board of Nursing Licensure to find a solution.
The bill was held in committee for further discussion. Voting to hold the bill were Sens. O'Reilly, Buckley, Jackson, Sanes, and Cole. Sens. Roach and Millin Young were absent.