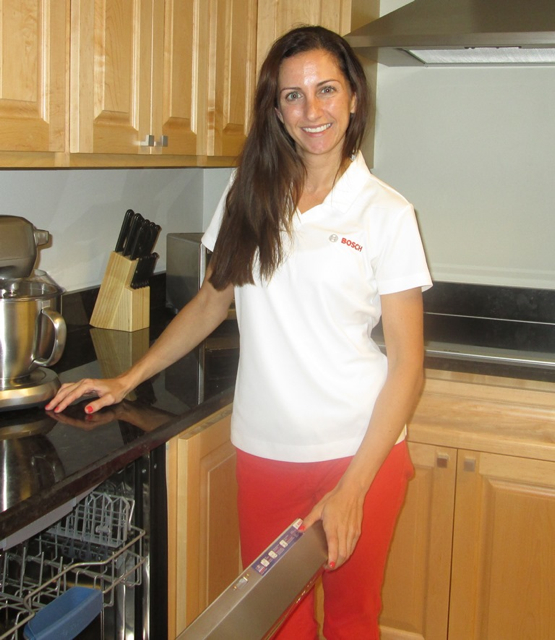 While Dr. Cool AC, Refrigeration and Appliances, has been around since 1999, the company recently became a subsidiary of the Philadelphia-based U.S. Facilities Co. and expanded to include posh kitchen appliances in its repertoire.
"Anything in your heart you can imagine, you can get," Dr. Cool's kitchen design consultant Gabrielle Nelson, said.
Located at Palm Plaza shopping center near the Westin Resort and Villas, Dr. Cool is known mainly for its air conditioner repairs.
"We were already in the homes doing high-end AC repairs so we might as well expand to applicances," general manager Gary David said.
He said that sales had flattened out on the repairs side of the business so the expansion into appliances was a move to increase revenue.
Dr. Cool carries a variety of kitchen appliances from the luxurious Gaggenau line as well as high-end Thermador, SubZero-Wolf and Miele and mid-level Bosch, Smeg and Electrolux.
Dr. Cool also carries Liebherr, U-line, Scotsman refrigeration and under-counter ice machines.
"Liebherr has a particular appeal to this island and is notable for their ability to outlast the elements," Nelson said.
Shoppers will also find Coyote outdoor grills, Franke & Kindred sinks and faucets, Best ventilation hoods, Breville countertop appliances, and Fagor commercial kitchen equipment.
In addition to selling appliances, Dr. Cool also offers design services to help home builders and remodelers plan a kitchen that suits them.
A person who likes a bargain, Nelson said she's quick to put that skill to use for Dr. Cool customers. She said that every three years appliance manufacturers bring out their new models. That transition is currently happening, so it's easy to find great deals, Nelson said.
While Nelson said stainless steel appliances are still the biggest seller, Dr. Cool sells appliances in a rainbow of colors including eye-popping neons and the retro avocado and gold. White is also available, but Nelson said today's white is more pearly than the more traditional color found in many kitchens.
The store has functioning kitchens complete with pots and pans for buyers to try out. And it has ample parking right in front of the store.
"Just bring your food," Nelson said, inviting kitchen shoppers to try before they buy.
Dr. Cool also has the newest in appliance technology, including induction cook tops that are cool to the touch, and steam ovens that cook food in a jiffy. The Miele-brand one is so high tech, it asks you what vegetable you want to cook. Nelson pushed asparagus. It responded with what color asparagus – white or green. It continued fine tuning the asparagus options to ensure a perfect ending to the cooking session.
"This is for the cook that can't cook," she said.
Nelson admits that she falls into that category, but since her arrival at Dr. Cool four months ago, she's honed her skills when it comes to knowing about the products sold at the store by lots of research and attending several training seminars held by the manufacturers.
A New Jersey native, Nelson, 29, holds a bachelor's degree in marketing from Syracuse University. She worked as an operations and inventory consultant for Phillips-Van Heusen, a job that had her rebuilding the stockrooms of stores that sold the company's products. She was also a tutor for students studying to take their SAT tests and as a volunteer in Hurricane Sandy recovery program before heading south. The volunteer post was particularly close to home since her family lost their vacation home at the Jersey shore in the hurricane.
"It was really touching to see everybody come together," she said.
She headed to St. John after U.S. Facilities President James Jim Dobrowolski, a family friend, offered her the position on St. John.
"I enjoy anything new," she said.
Further information is available online at www.drcool.com or by calling 1-340- 693-9071.