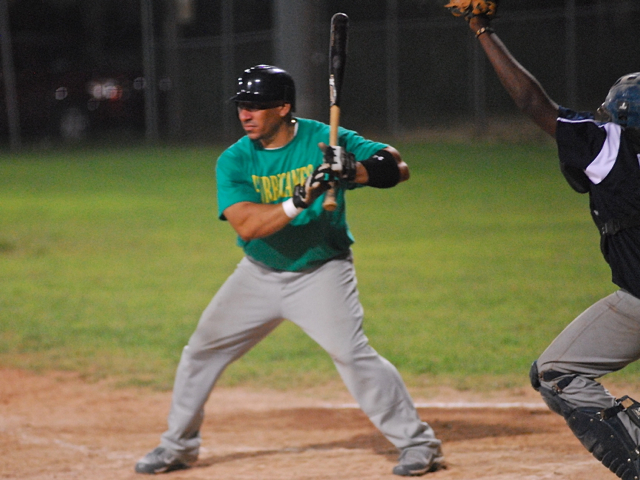 The Yankees moved to within a half game of the league-leading 40-Plus Hurricanes after beating them, 9-5, Saturday afternoon in Raphael Jackson AA Baseball action at the D.C. Canegata Ball Park.
The Hurricanes, the old men of the league, came into Saturday's action in sole possession of first place. They carried a four-game winning streak after defeating the Vikings on Friday.
But some sloppy, error-filled play by the 'Canes in the early innings let the Yankees take an 3-0 lead without the benefit of a hit, and they never looked back. The Yankees were outhit 9 to 3, but took full advantage of Hurricane errors.
Batting first, the Yankees picked up two unearned runs in the top of the first inning to take the early lead. They added another in the top of the third to go ahead 3-0. 40-Plus responded with a run in the bottom of the inning to trail 3-1 when Carlos Morales, who led off the inning with a double, advanced to third on a ground out and scored on a pass ball.
The Yankees picked up their fourth and fifth unearned runs in the top of the fifth on two errors to extend their lead to 5-1. The Hurricanes pulled one run back on Guido Schjang's RBI ground out.
In the sixth the Yankees scored on Jonathan Gonzales' two-run single to extend their lead to 7-2. Leroy Simmonds' two-run single in the top of the seventh pushed the score to what looked to be an almost insurmountable 9-2, but the Hurricanes rallied for three runs in the bottom of the inning to make things interesting. They came up short, however, going down by a final score of 9-5.
The game was called at the end of the seventh inning due to time constraints.
Eli Ramirez scattered eight hits over seven innings to pick up the win for the Yankees while Anuedes Mercedes got the loss. Top batters for the winners were Gonzales, 1 for 1 with two RBIs, and Simmonds, 1 for 4 with two RBIs. For the Hurricanes Raymond Cintron was 2 for 3, Guido Schjang was 2 for 4 with one RBI, Carlos Morales 2 for 4, and Juan Burgos was 1 for 3 with three RBIs.