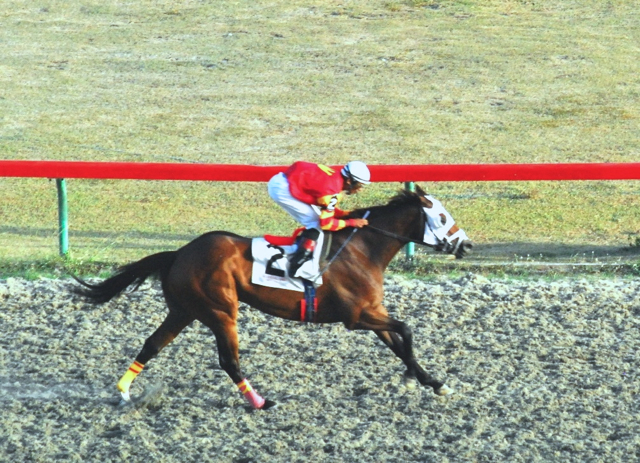 St. Thomas' Twisted Dream (120) and St, Croix-based Parachute Coney (120) headlines a field of six thoroughbreds in the featured ninth race Sunday at the Randall "Doc" James Race Track.
Twisted Dream is one of the top thoroughbreds in the territory, while the surging Parachute Coney is coming off a huge upset win over former St. Croix champ Slevin in his last outing. Both horses will carry 120 pounds.
Former St. Thomas champ Diablo's Fire, carrying 118, has also made the trip across the strait and if ready should be in the money in the 1-1/16-mile race. Simon Sez Run, 118, has been running well of late but seems to be a tad below the top two in class.
The big question mark in the race is the formerly retired El Real Madrid, carrying 118, a former Virgin Islands champ who has been away from racing for more than two years.
Remarkable Storm, 116, rounds out the field in the race.
The sixth race of the day, run at a distance of six furlongs, is also expected an exciting one. It is an open race that has drawn some of the fastest horses in the U.S. Virgin Islands.
Headlining the field is former V.I. champ Slevin, in with a top weight of 122 pounds. He is going to have his hands full with stablemate Bambi Bound, 120, who is coming off of a dominating performance in the sprint classic during the St. Thomas carnival races. Plotter and Bid D, both carrying 119 pounds, are also speed demons and could steal the race. Musicinthenight, 114, and Costly Approval, 115, are speedy thoroughbreds but may be somewhat outclassed here.
The six-furlongs track record of 1:09.4, currently held by El Real Madrid of St. Croix and Broken Home of Tortola, is in serious jeopardy of falling on Sunday.
The rest of the day's card:
Race 1 Class N-4-M/F-C/G, 6F $4,000.00
1. Victoria Secret 116
2. Polo Matches 116
3. Gaza 114
4. Ideal Masterpiece(Debut) 114
5. Running Pryor 116
6. JPD YUNG 114
7. Eviction 114
Race 2 Class N-3, C/G & M/F 7-1/2 F, $4,200.00
1. Yahborough's Weapon 118
2. Delilah 114
3. Kings of Kings 118
4. Gold Demarshe 114
5. Mr. Fete 117
6. Mother Mel 116
7. Nick 114
Race 3 Class I-5 C/G 1M, $4,500.00
1. Mechanical Force 118
2. San Viron 118
3. Burn the Harp 114
4. Going Blue 118
5. El Hombre Grande 114
6. John the Baptist 114
7. Australis Forever 118
Race 4 Class N-1-2-M/F-C/G, 1M $5,000.00,
1. Creation Rebel 120
2. Mama Linda 117
3. Cruzan Emerald 114
4. Fast Return 117
5. Super Pop 117
Race 5 Class I-4(M/F) 7-1/2 F, $4,000.00
1. My Ocean Beauty 114
2. Syrophoenician 118
3 Apron Dance 118
4. Pa Pa Pa Perfect 114
5. Catty Patty (Debut) 114
6. Karma Cat 114
Race 7 Class I-1-2-3(M/F) 1-1/16 M, $5,000.00
1. WhoShotthesheriff 114
2. Imperial Award 114
3. Holy Barbara 118
4. OHBABYOBEYME 118 (STT)
5. Turned to Gold 121
Race 8 Class I-2-3(C/G) 7 F, $5,000.00
1. Fly in the Soup 114
2. Blast of Macho 114
3. Congo 119
4. Blackjack Bob 114
5. According to Jesus 116
6. Burning Star (Debut) 116
7. Bob Can't Jump (Debut) 117 (STT)
Race 10 Class I-4 (C/G) 1M, $5,100.00
1. Groomsman 117
2. Aerial Storm 117
3. Johann Slew 117
4. Bruno's Burst 119
5. A Bit of Madness 114
6. What's Poppin 119
7. Her Argument 117