Delegate Donna M. Christensen said Tuesday she did not know donations to her campaign, which were routed through an event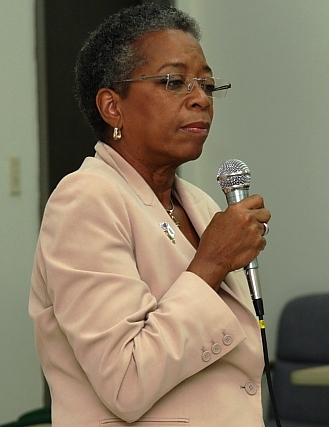 organized by Jeffrey Thompson, might have been illegal, and she pledged to give any tainted funds to charity.
"For the length of my 16-year tenure in Congress, Thompson organized only two fundraisers on my behalf, the most recent of which was in February of 2011," Christensen said.
The delegate said it was a real event, held at a Washington, D.C., restaurant and most, if not all, of those contributing were in attendance.
The fundraising activities of Thompson and his D.C. firm, Thompson, Cobb, Bazilio and Associates, have been the subject of a federal investigation for more than a year and were in the headlines last week. On Thursday, an employee, Lee Calhoun, pleaded guilty to hiding the true source of campaign contributions, a misdemeanor.
In court documents, Calhoun said he wrote campaign donation checks to candidates running for D.C. mayor, D.C. council and other races. Those donations were then reimbursed by an unnamed executive, hiding their true source in violation of federal campaign laws.
The firm is also suspected of "bundling" other such donations to campaigns ranging from President Obama's to Christensen's. Bundling donations hides the true donor and allows contributors to exceed campaign finance limits.
Calhoun's plea "reveals how a D.C. accounting firm was converted into an assembly line for illegal campaign contributions," said U.S. Attorney Ronald Machen after Thursday's court session. "For a decade, the firm and its CEO made illegal campaign contributions through straw donors to an array of federal and D.C. politicians."
"The firm used a special accounting system to keep track of the thousands and thousands of dollars it was plowing into political campaigns," Machen said.
The investigation is continuing and Calhoun has agreed to cooperate, according to published reports. His sentencing is slated for September.
Christensen said she did not and could not know anything about Thompson's fundraising activities.
"I did not have any reason to believe that there was anything wrong with the checks that the campaign received, and they were all reported to the Federal Elections Commission as required by law," she said.
In the past, whenever her campaign received checks that were not allowed under the law, they were refused or returned, the delegate added.
"I have known many of the donors personally, dating back to the '80s and have spoken at issue-oriented events that they were involved in, particularly on Caribbean and African issues. For many years, I was the only person in Congress from the English-speaking Caribbean, and in addition to my work for the Virgin Islands, I would also assist them in matters before the Congress," she said.
"Their accounting firm, Thompson, Cobb and Bazilio, has also done work in the territory, most notably as the fiduciary of the Education Department," she said. "That contract was awarded through the competitive bidding process and was approved by the U.S. Department of Education," she said.
"My campaign has never had an excessive amount of funding," the delegate continued. "We generally raise what we need for each cycle and most is spent on our vendors in the Virgin Islands, National Democratic Party dues, two paid part-time staff and for donations to community organizations in the form of advertising support or direct contribution," she explained. "We will begin to donate all of the funds in question to designated charities, beginning with a donation of $2,300 to an organization which we will announce shortly."
As there is still an investigation in progress, Christensen said that she is refraining from further comment at this time.