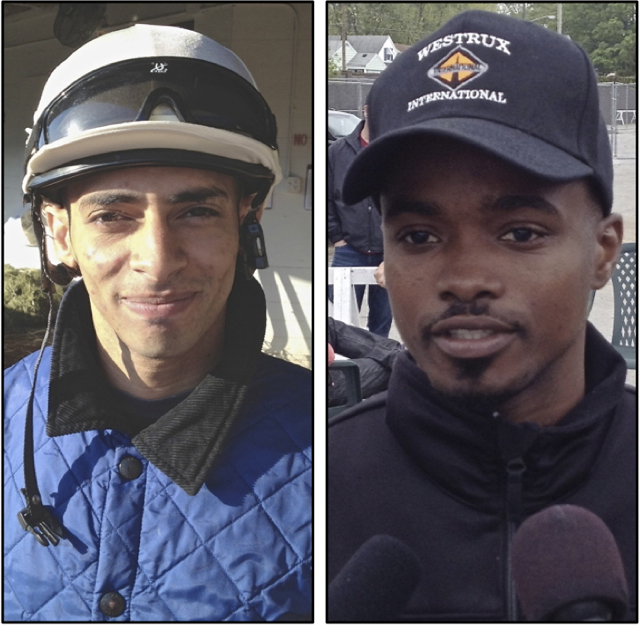 Gov. John deJongh Jr. Saturday congratulated Virgin Islands native son Kevin Krigger and St. Croix resident Victor Lebron as they represented the territory at the Kentucky Derby.
Krigger was the jockey on Goldenscents and Lebron was the jockey on Frac Daddy. Both horses finished out of the running, fading after Goldenscents ran near the lead through the early third of the race. But that didn't dim the significance of the two men becoming the first ever to represent the territory in the world's most famous horse race.
"Krigger and fellow jockey Victor Lebron have brought an unprecedented level of attention to the territory in the days leading up to the Kentucky Derby," deJongh said. "Kevin and Victor have made us all proud as their career have come under the national spotlight. They have represented the territory well, speaking to countless reporters about their life on St. Croix and their careers in the horse racing industry.
The two jockeys were not the only island influence in the big race, the governor added.
"I also commend the work of Gareem Nicholas, the assistant trainer for Itsmyluckday (another horse in the crowded Derby field.) And I am extremely pleased that a contingent of Virgin Islanders was on hand to wish Kevin Krigger and Victor Lebron well and to cheer them on in today's race."
Delegate to Congress Donna Christensen also congratulated the trio of V.I. horsemen.
Christensen attended the Derby along with a contingent of Virgin Islanders who traveled to the race to witness history in the making.
"As a person who grew up in a horse racing family and who has always followed the sport, I could not be prouder to see our young men riding and training in such a prestigious event," she said. "I am proud and blessed to be here to witness it. Virgin Islanders everywhere are beaming with pride."
Last month, Christensen paid tribute to the young men in one-minute speeches on the floor of the House – first congratulating Krigger on his Santa Anita win on board "Goldencents" and for qualifying for the Kentucky Derby, then last week, honoring Lebron on his qualifying ride with "Frac Daddy," and Nicholas as an assistant trainer for Derby bound horse.
Christensen credited many people for their roles in the success of the three, who began their careers at the Randall "Doc" James Racetrack on St. Croix. She particularly congratulated their parents.
Despite not winning the coveted race, Christensen said "the young men are winners to me and in the eyes of their fellow Virgin Islanders."