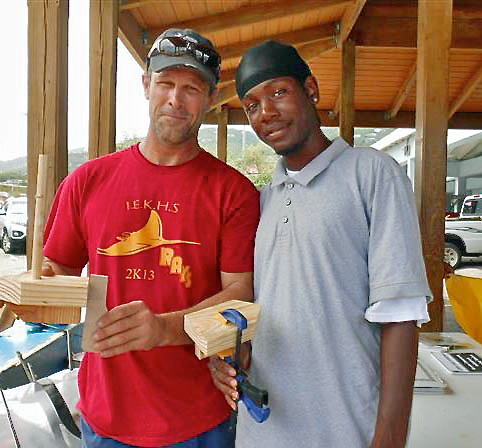 Installing keels on about a dozen fat little wooden sailing boats, Stanley Lorbach said he and his student, Kolanni Edwards, had been working all morning getting the boats ready for his afternoon lesson.
Lorbach is the marine industries instructor at Ivanna Eudora Kean High School. He is one of a team of teachers recruited by Cecile Armour for Saturday's Ocean Classroom Initiatives under the Frenchtown Gustave Quetel Fishing Center.
Armour's educational efforts have made her a fixture in the Frenchtown community. Noticing the profane graffiti in a small park last year, she single-handedly rounded up the neighborhood kids to paint over the "bad words," which resulted in a mural, a collage with each child's individual painting ranging from a baseball player to admonitions to behave and "not use drugs and bad words."
Saturday's classroom brought volunteers from a wide swath of the community, from boat maintenance experts to librarians, artists and a University of the Virgin Islands biology student, The focus was on the water.
Frenchtown fishermen patiently let the kids try their hand at cleaning fish. Speaking through an interpreter, veteran fisherman Hogan Thomas, who is deaf, told the kids how to skin the common fish called an old wife. "Go ahead, lift it up," he said through his interpreter Johanna Dobbs, "it won't bite."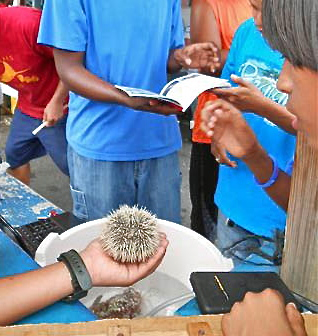 What was biting was a school of huge glossy blue tarpon circling off the dock and gorging themselves on the fish guts.
"They're here every day," said Jimmy Magner, St. Thomas Fisherman's stalwart. "They are protected, you know," he pointed out. "Catch and release, if anyone tried to get one of these, they'd be in big trouble."
Around the corner, CYOA charter mechanic Jeffrey Velasquez held the attention of a group of martial arts students garbed in the white karate gis of the International Martial Arts Academy. They were held rapt by something much less rarified than Ja Gogu-Jitsye, listening intently to a hands-on description of how a boat engine works, from spark plugs on up.
Back to the sea, UVI senior biology major Jan Alexis Barry had his own audience of youngsters, fascinated by a plastic tub inhabited by a small eel, an arrow crab and, the biggest attraction, a white sea urchin, all living peacefully together.
"These are also called the West Indian sea eggs," remarked Armour, who seemed to be everywhere, encouraging the kids to learn, learn, learn.
"Mr. Barry will show you how to hold the urchin," she explained. Carefully, it turns out is how.
Next, Armour was explaining to Ulla Muller Elementary School fifth-graders the finer points of floral design, an offshoot she somehow threw in the mix.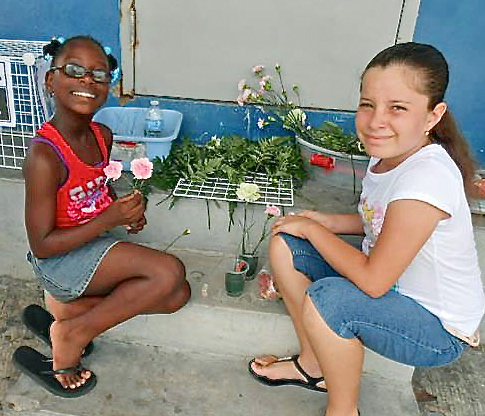 "Here," she said to Briana Burgin, while putting the flowers into small cups, "Put this carnation with the ferns. Mother's Day is coming up, you know."
Charlotte Amalie High School librarian Susana Torres had a display for kids of all ages, from Legos to a table filled with ocean related books – "Paddle to the Sea," "The Seashore," "Oceans."
"I'm hoping to interest the children in the water around us," she said. And she had a treat in store. "I'm going to show them the movie, 'The Life of Pi,' " she said, "which, you know, takes place on the ocean."
Another display featured a rubber bladder, with a basic question: "How do fish float?'" And there were other basics. A science table where the Ulla Muller youngsters were demonstrating how to make tooth paste. Answer: mix baking soda, salt, glycerin and a few drops of peppermint.
"You'd be surprised how fresh your mouth feels," said teacher Armour.
Meantime, Kean teacher Lorbach manned a popular exhibit. The kids worked patiently to put the boats together in parts from the keel to the sail.
"Now, when they finish, they'll have a basic knowledge of how a sailboat works," he said.
Armour is passionate and particular about her efforts. The entire exhibit, a community-centered learning lesson, is aligned with American Museum Association standards.
"It's an informed approach to informal education," she said.