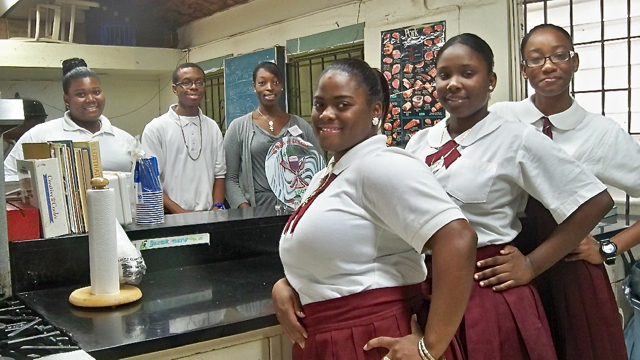 Four years ago Chef Camisha Lynch was hired at St. Croix Central High School to get a culinary arts program back in the curriculum and a kitchen up and running.
Now students enjoy her class so much they want to be able to take the class four semesters and not just one.
In the pre-vocational class, she focuses on teaching students the skills and joy of cooking, hoping to spark an interest in culinary careers.
"It makes me so happy to be able to teach the students everything I've learned in the industry," Lynch said. "They need the basics to be able to work any type of job in the food service industry. They have to know correct terminology and measurements. They have to know a ladle is not a pot spoon, as many kids call it."
It helps to know the basics even if they end up waiting on tables at some point, she said.
The school had a class before, and Lynch said she doesn't know why it was canceled in 2005. The culinary arts classroom was closed and not maintained. So when she opened the kitchen, it was in sad shape. She made it look presentable, doing some heavy duty cleaning, scouring and painting. She brought in her own tools, small appliances and utensils. She says all she really needs now is a good ventilation system set up.
Lynch said she never expected to teach cooking, but she loves the hands-on experience with the students. She hopes to inspire the students, whether the cooking experience is for them personally or in the industry. She is giving the students the opportunity to cook and sample different dishes. The students do textbook work learning measurements, sanitation, food budgeting and nutrition.
Everyone needs to know how to cook, said Brendan James, a senior. He called the class great, even though he wants to be an electrical engineer.
"This gives young men nice exposure to cooking, because we'll have to cook for ourselves," James said. "Miss Lynch has really sparked my interest in cooking and trying different food. I look forward to coming to this class. I just wish it was four semesters. Cooking is fun and like a recreational thing."
Kieshele Winston, a sophomore, said she has thought about owning a catering business in Hollywood and cooking for celebrities.
"I like to cook and taste different things here that I don't get to do at home," Winston said.
Kniqua Christian, a senior, said she has been thinking about opening a sports bar and grill, but not with the economy the way it is right now.
The students have taken it to another level, participating in the "Taste of St. Croix" food event. In 2009 they got best presentation for their "Everything Edible" tropical theme. And in 2012 they took second for dessert for their French vanilla cake with raspberry filling and a chocolate ganache. And their brown rice and barbecue tofu kabobs they took home a third place award in vegetarian dishes.
A couple of weeks ago Lynch took her top five students to "A Taste of St. Croix" and entered the dessert category again. Students prepared and served lemon berry cheesecake bars. And they entered the vegetarian category, frying up a brown-rice fried-rice dish along with tofu and mushroom kabobs.
"A Taste of St. Croix is a lot of work, but it gives the students great exposure and experience," Lynch said.
If the students want a career in the culinary industry they can go to St. Croix Career and Technical Education Center for additional training.
Lynch, born and raised on St. Croix graduated in 1999 from Manor School and the Florida Culinary Institute in West Palm Beach, Fla., in 2001. She worked as a sous chef at the Wyndham and Marriott Hotels in Richmond, Va., before moving back to St. Croix to get her dream job as an executive sous chef at Divi Carina Bay Resort Starlight Grill.
Lynch said she recognizes at this time there aren't a lot of chef positions open on St. Croix, but she hopes things will turn around by the time these students are finished with culinary school, so they can return home to work in the industry on St. Croix.