The sidewalks along downtown St. Thomas were filled Saturday with family, friends and visitors as multi-colored costumes and festive music assumed an embodiment all its own in the form of Carnival's final pageant.
Following a monthlong celebration that took many forms and involved numerous participants and spectators, Carnival 2013 came to a conclusion on Saturday with the highly anticipated Adult Parade.
Traditional troupes were interspersed with newcomers this year as 52 entries marched, drove, danced and celebrated along Main Street. The troupes consisting of 20 to 40 brightly costumed men and women danced to popular carnival themed music and steel pan bands poured out music from bouncing two-story mobile structures.
Now in their third year, the Luna'tics from the La Luna Salon thrilled onlookers as more than 20 raven haired mermaids danced by, festooned in turquoise, complete with sequined tails and bodices.
"I have been living on St. Thomas for years but this is my first time attending the parade," said Sarah Erickson. "The steel drums are so fantastic and we are really looking forward to seeing the mocko jumbies."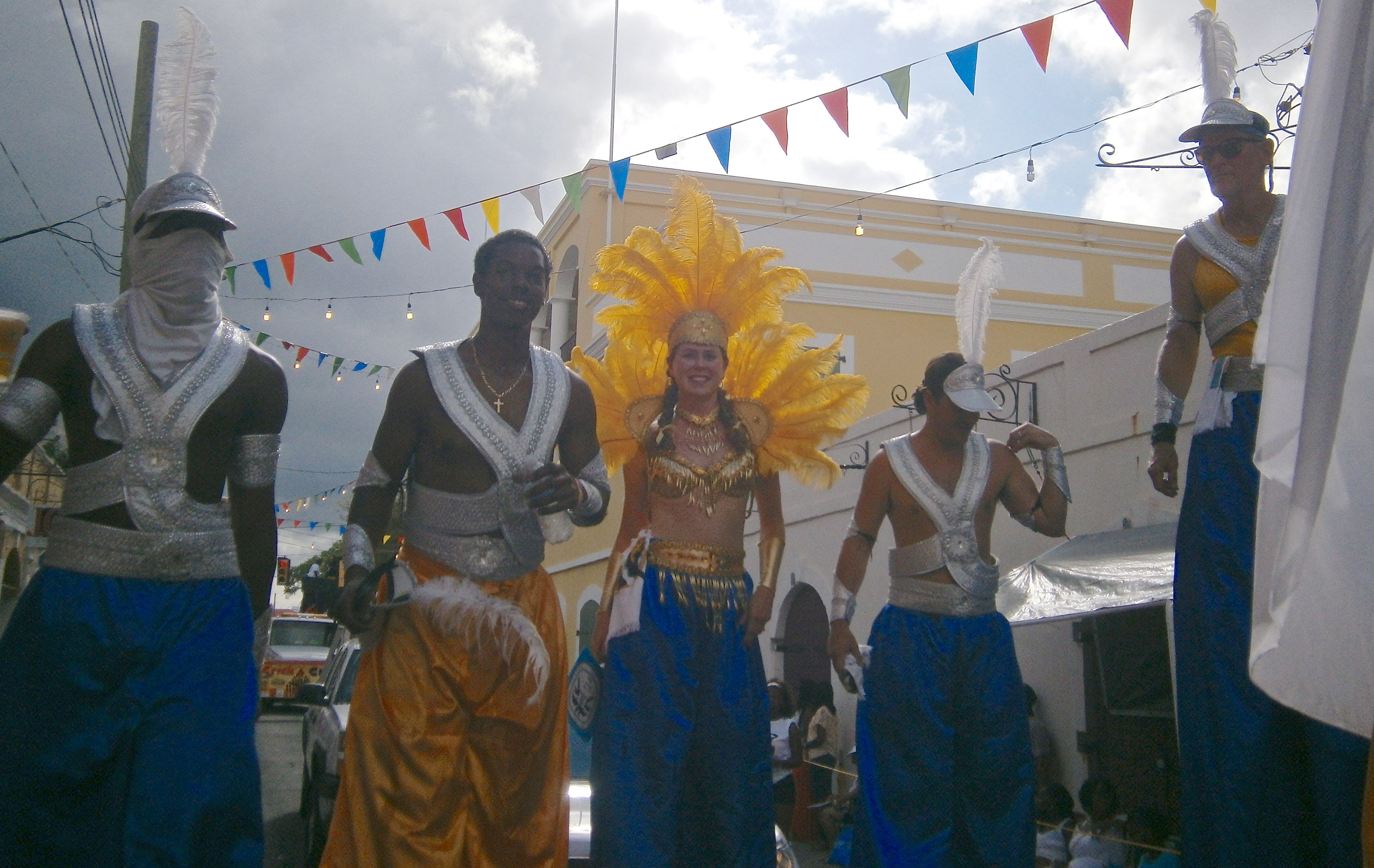 Erickson did not have long to wait, as son Conner and husband Josh were soon treated to the traditional stilted dancers from the University of the Virgin Islands troupe. This years UVI theme was "Sun, Sand and Sea," evident in the bold yellow and blue costumes
Never failing to delight, one of the oldest troupes, the Gypsy's, were adorned in outrageous nurses uniforms and bright green silk surgical smocks in keeping with their "Medical Scene" theme. Along with a float depicting a mock hospital, and wandering patients, the organization of 50 plus participants was one of the largest of the day.
Being a member of the Gypsy troupe is a right of passage for first year participant Maribel "Bella" Okiye. Saturday she was joined in the celebration by her mother, Maribel Okiye Sr., a 20-year troupe veteran.
"It's generational," said the junior Okiye. "We all help make our own hats, decorate our shoes and sew costumes."
Many troupes, including the Inferno's, Hugga Bunch and Jester's, share similar stories of longstanding family traditions having to do with the annual parade.
Midway along the parade route a yellow and green corrugated steel fence parted, allowing for front row premier parade seating for select family and friends, a parade custom going back almost 50 years. Eleven children have been raised in the home belonging to Mona and Etienne Massac.
"It's my family's annual tradition, we all grew up in and around the parade," said son Flash. "My dad was in the Indian troupe and I followed in his footsteps."
The Massac's welcome old friends and seem to add new friends to their parade celebration every year. Their sons and daughters pledge to keep it going for years to come.
Beginning behind the Western cemetery and ending at Lionel Roberts Stadium, the annual parade scheduled for a 10 a.m., did not get truly under way until almost 11:30. Once in full gear, the music and fanfare never stopped until just before sunset. While the crowds seemed thin along the parade route, applause and merriment were in full supply as parade members greeted friends and family, posing for photos and showing off self-styled dance moves. Each group performed choreographed dances and coordinated group marching before a reviewing stand erected near the Grand Hotel building.
The only fireworks at this years 61st Adult parade were the expected variety – spectacular and right on schedule as Fireworks by Grucci of New York conducted an aerial bombardment over the Charlotte Amalie harbor, bringing a long day of community celebration to a peaceful conclusion.