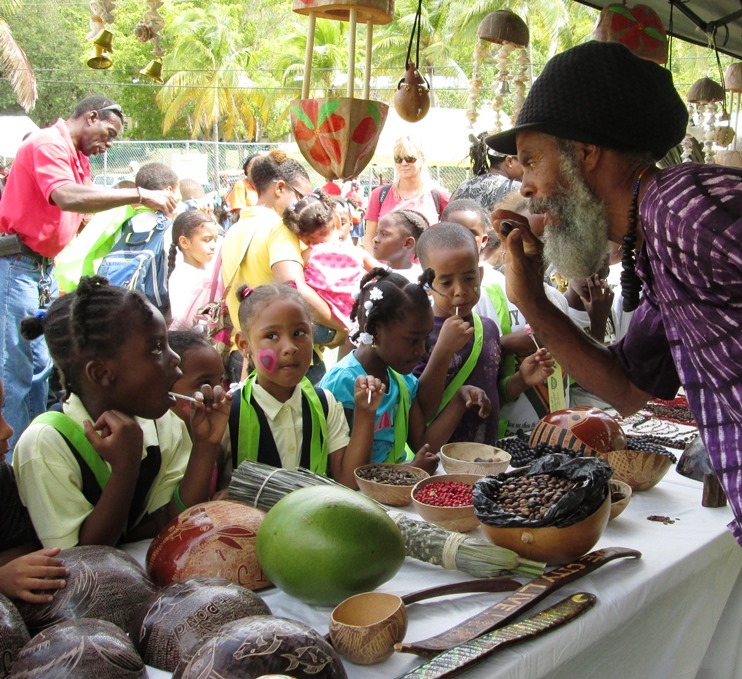 Adelaide Jones, a 9-year-old Gifft Hill School student taking in the sights at Friday's Earth Day celebration, summed it up when she noted that it's important to protect the earth because it's where we live.
"It's our only one," she said.
Jones and about 500 other students from across St. John were at the V.I. National Park ballfield for the annual event sponsored by the Friends of the Park group.
Friends President Joe Kessler said one of the group's goals is to foster environmental understanding and ethics among the island's youth.
"They are the future stewards of the island and the park," he said.
The day started with the V.I. Waste Management Authority's Litter Stomp from Julius E. Sprauve School to the ballfield.
"After all, this is our home," the students sang as they followed behind Waste Management's Litter Critter mongoose to the ballfield.
At the field, about 20 organizations, most with an environmental slant, set up tables to pass along their message. Some had interactive activities to help get their message across.
"These are origami fish made out of recycled paper," Ginger Kreofsky, Maho Bay Camps art director, began. The students then used recycled thread to attach them to new pencils for a decorative look.
At the Unitarian Universalist Fellowship table, students were busy stamping paper to make into necklaces.
Government agencies were also on hand, with Carlos Robles from the University of the Virgin Islands Extension Service explaining about compost.
Mario Francis was quick to discuss the importance of trees. Speaking under the auspices of the Agriculture Department's Urban Forestry and Urban Community Forestry program, he said that many types of medicines can be made from local trees. Holding up a jar of Bonkonko made from castor beans with neen oil and painkiller bushes, he touts its remedies.
"Bumps, lumps, swelling, sore muscles…, he said.
Audrey Penn, the previous Friends' program manager who now works for the Ritz-Carlton St. Thomas Ambassadors of the Environment program, was there to talk to the students about the environment and to let teachers know the program welcomes school groups.
Students also went home with items like postcards from the U.S. Environmental Protection Agency and coloring books from the Animal Care Center of St. John.
A solar-powered car drew a slew of preteen and early-teen boys who gathered to try out the steering and explore its other attributes.
"It's like a future car," 14-year-old Sprauve School student Jerome Douglas said.
Douglas and his friends got the Earth Day message, with several of them saying there were there because they cared about the earth.
"The earth gives us all that we have," said Sprauve student Patrick Hendrickson, also 14.