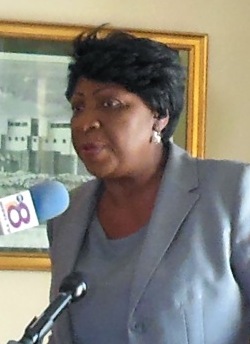 Sen. Alicia "Chucky" Hansen proposed waiving that portion of employees' pension contributions that were not paid into the system due to the temporary 8 percent government pay cut instituted in 2011, during a press conference she called Tuesday on St. Croix.
Hansen told an anecdote about someone who had to put off retirement because they could not get the expected amount unless they paid the Government Employee Retirement System the amount of their personal contribution that was not made due to the 8 percent pay cut. "She was on the verge of a stroke," Hansen said.
Because the pay cuts were not the fault of the employees, it would be unfair for them to pay their contributions to the pension plan themselves or receive a lower pension amount, Hansen said. She said she had proposed legislation to waive that part of employee contributions and pay such retirees pensions as if they had made the contributions, or alternatively, for the government to pay that portion of the employee contribution as well as the employer contribution.
According to a 2011 report from the U.S. Department of the Interior's Office of the Inspector General, a series of legislative actions that increased benefits and allowed more employees to retire early, without corresponding increases in contributions, has put the GERS on a course toward bankruptcy. The report concluded only large increases in employee and employer contributions, possibly combined with benefit cuts, could ensure the system remains able to pay retiree pensions.
The system has an unfunded liability in excess of $1.2 billion and is currently paying pensioners largely by liquidating its trust fund rather than from new contributions or returns on investment. During budget hearings last fall, GERS Executive Director Austin Nibbs said that if nothing changes, "the system is expected to run out of money in 2023."
Asked how waiving contributions would benefit retirees if the system went broke, Hansen said the amount needed was only enough for the portion of contributions affected by the pay cuts. "It's not a billion dollars. It's just for the 8 percent," she said.
"We could identify the funding from some other source," Hansen said, suggesting there may be $4.5 million in a fund held by Hovensa for paying for emissions violations. "I just identified one major source right there," she said.
She did not address the more serious problem of the system's approaching bankruptcy.
Hansen also discussed a recent cruise industry conference, saying the territory needs to do more to bring visitors and that the island of St. Martin has surpassed St. Thomas as the most popular cruise destination in the Caribbean.
Meanwhile other senators sought to publicize their actions as well this week.
Senate President Shawn-Michael Malone released a statement Tuesday, saying training staff on workplace harassment was one of the many issues he had worked to address since taking over the administrative duties of the Virgin Islands Legislature.
"I look forward to discussing this in detail in the coming weeks as we have made significant progress on all fronts," he said. "While correcting the financial issues brought forward in the audit has been our primary focus, we have also been working diligently to address various human resource matters to include developing a new employee manual and instituting training on sexual harassment."
Malone said "there are those that enjoy finding fault with every action that senators take," but that he believed remarkable progress had been made in the "two months since we were sworn in."
Malone said the entire employee manual had been revised and that, just last week, four dates were set in April for comprehensive sexual harassment training for all senators and employees.
This training is being emphasized because of a sexual harassment lawsuit filed by an employee of the Legislature last week. (See related links below)
"The legislature has faced more than one lawsuit in this regard and the senators of the 30th Legislature have taken this very seriously," Malone said.
Sen. Clarence Payne III issued a statement Tuesday, saying he had written to V.I. Water and Power Authority Executive Director Hugo Hodge Jr. to request an update on efforts to provide clean, potable water to the residents of Anna's Retreat and Hidden Valley.
"Given the frequency of droughts and the projected scarcity of water in the future, it is important that we make clean water available to as many of our residents as possible," Payne said in the statement.
He also requested information on previous plans to provide potable water to Ross-Tanneberg Homes in the Estate Polyberg area. After the homes were constructed by the Virgin Islands Housing Authority, they were sold to residents. However, WAPA discontinued supplying the homes with potable water because there were too many leaks in the existing water lines, causing the system to lose pressure and water. Payne said.
Sen. Clifford Graham issued a statement saying he recently visited Joseph Sibilly Elementary School to personally deliver response letters to sixth-grade students who wrote to him and to discuss legislation he is proposing to set a ceiling of six hours of instruction each school day.
Graham told the students that his initiative stemmed from extensive research which revealed there is a perception among policymakers and the public that U. S. and V.I. students spend less time in school than students in other countries, quoting the U.S. secretary of Education.
"My intention for this proposed amendment is for students in the Virgin Islands to have more productive classroom time," Graham said. The proposed change states that anything over six hours should be for nonacademic subjects such as social clubs, labs, research assignments or group projects, and that funding to pay Education personnel must be identified prior to implementing.
"Essentially what I am proposing is a longer school day – not a longer school year," Graham said.