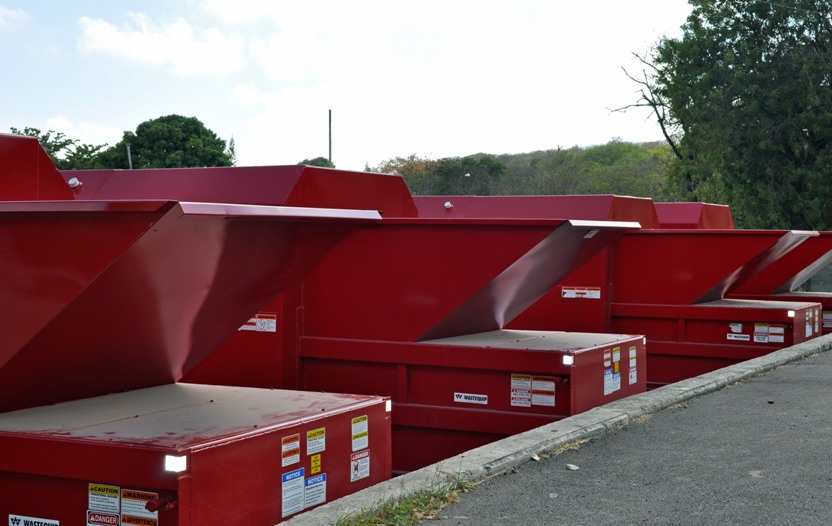 With the pending opening of the Virgin Islands Waste Management Authority's new Peter's Rest Convenience Center, the way trash is disposed of in the Virgin Islands is about to change forever.
"This is the direction we're heading in," said Vincent Edbesen, St. Croix's solid waste district director. "It's a first of its kind in the Virgin Islands."
That direction Edbesen refers to is what will be the new Peter's Rest Convenience Center, targeted to open April 15.
With the current bin site at Peter's Rest consisting of open trash dumpsters, traffic congestion and garbage littering the surrounding grounds, not to mention the homeless that sadly call those grounds "home," the new convenience center will be vastly different.
"The façade that you see now is going to be going away," Edbesen said.
Once the new operation is up and running, those open-air bins with garbage sometimes overflowing will be removed, the area will be fenced off and, once and for all, the grounds will be cleaned of the trash that litters the area. Edbesen said there was even an idea floating around that the current bin site grounds could become a park.
"We're especially excited about what's going on here," said Dotson James, St. Croix's administrator. "It's going to bring back the area to what it's exactly supposed to be."
As for the new convenience center, which sits inside a fence next to the present site, it was designed to allow for the smooth, one-directional flow of entering and exiting traffic, in addition to being a manned facility with scheduled hours of operation where residents (not businesses) can take their household, yard and bulk waste, like furniture and appliances, for disposal in three distinct areas.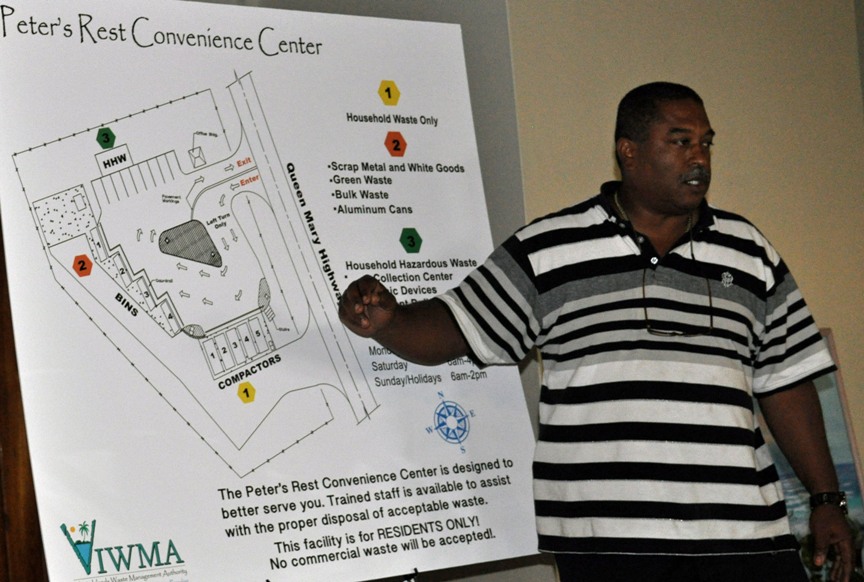 In addition to being a place for recycling aluminum and steel cans, in a partnership with the Boys and Girls Club, the facility will also initially accept electronic waste and fluorescent light bulbs in a fourth area. To currently recycle those items, one had to travel to William's Delight.
Those items initially being accepted for recycling are hopefully only the beginning, said Paul Chakroff, executive director of the St. Croix Environmental Association. Chakroff said the opening of the new center will be one of the biggest days in the history of recycling efforts on St. Croix.
"It's tremendous. It's groundbreaking," Chakroff said. "We've been working to get recycling going for many years and this brings everything into one place so it truly is a convenient center. But this way it eventually enables us to recycle aluminum, glass, green waste, plastics and then we can do the whole spectrum, and we couldn't do that without a properly designed facility."
At a town meeting hosted by the Waste Management Authority Tuesday evening at Gertrude's to discuss how and when the new center will operate, residents seemed to be in support overall of the center's plans, which the authority admits that, with it being a pilot project, it will also be a learning experience.
The biggest concerns seemed to come from those who live near the current Peter's Rest site, and those questions mostly had to do with safety and security, littering, illegal dumping and noise at all hours of the night.
Those residents' fears appeared to be alleviated when they learned the new facility would be manned by hidden security cameras and personnel to catch vehicles coming after hours who might just leave their trash at the gate. Edbesen even encouraged local residents to record and report illegal dumping activities they witnessed to the authority.
"We need to change the littering mentality," he said.
One woman from the audience said in response, "I'll have my video camera ready."
Edbesen also said that by having scheduled hours of operation by employed personnel, it would discourage businesses from illegally dumping at the new site unlike the present one. He also added that a "task force" was in place to remove the homeless from that area and to "curb illegal activities" that sometimes presently occur on the site's grounds.
Edbesen said plans are afoot to eventually change the other three trash bin sites on St. Croix to that of a convenience center and that St. Thomas is also following suit. Funding will determine how quickly those changes can be implemented, he said. The Peter's Rest site was funded by the Department of the Interior and will be free to use by any household residence on the island.
Its hours of operation will be Monday to Friday from 6 a.m. to 8 p.m., on Saturday from 6 a.m. until 4 p.m. and on Sunday and holidays from 6 a.m. until 2 p.m.
According to Edbesen, the name says it all. "We hope to make your visit here and your experience convenient," he said.