St. John's St. Patrick's Day Parade has become a must do for vacationers in the know about the island.
"It's one of those things you have to check off your list," Dave Radtke, a Milwaukee resident visiting his sister, St. John resident Karen Radtke, said Saturday as he waited for the parade to begin.
He was sitting near Woody's Seafood Saloon with his sister and his wife, Edie Radtke, who said they decided to come earlier than usual for their winter break to make sure they saw the parade.
Brainerd, Minn., resident Pam Korte and her husband, Mark Korte, were sitting just down the block from the Radtkes. Camping at Cinnamon Bay Campground, they said this was their sixth visit to St. John.
"But the parade is new to us," Pam Korte said.
Across the street, St. John winter resident David Spoth said he wouldn't miss the parade.
"I like the pageantry, the costumes, the kids, and the adults who are acting like kids," he said, laughing.
The wee parade got off a bit after noon as about 10 groups sporting green made their way from the roundabout to the First Bank intersection. Parade viewers, many of them also wearing bits and blobs of green or a shamrock or two, lined the two-block-long route.
Even if they had no known ties to Ireland, everyone was Irish for the day.
"It's a ruckus. Everyone has a good time, and it's just fun to celebrate the Irish," St. John resident Jeff Crokin said.
Later, he was spotted at the front of the parade carrying an Irish flag. He was joined by parade marshal Wade Shannon and a woman, who gave her name only as Boo, who carried a Guinness flag.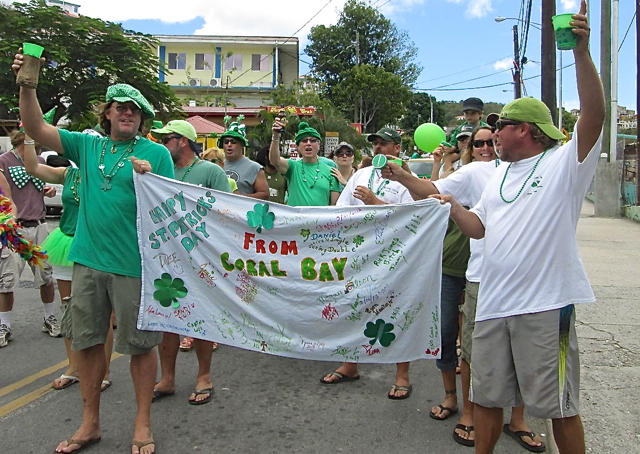 The Jersey Shore Leprechauns were among those who marched in the parade. Organizer Susan Paviluk said they are a group of people who live mainly at the Jersey shore – that's Jersey speak for beach, and decided to join the parade as part of their St. John vacation.
A group of Coral Bay residents joined forces because organizer Megan Olson said nobody could remember the last time Coral Bay had a significant representation in the parade.
"And it's such a fun and nice day," she said.
The Animal Care Center of St. John was out in force, with dogs available for adoption and a banner advertising its May 18 Wagapalooza dog show.
While everyone expected to have a good time, the day meant work for some St. John residents. Musician Chris Carsel and wife, Maureen Carsal, were sitting on the curb putting together a list of songs to play later at Quiet Mon Pub. The Cruz Bay bar sponsors the parade.
"We're doing a lot of Irish music," Chris Carsel said.