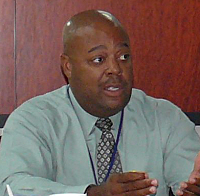 Virgin Islanders, who pay some of the highest electric rates in the United States, could see a 30 percent rate reduction – if they can hold on until 2014 – members of the V.I. Senate were told at a hearing Friday on energy in the territory.
The Committee on Energy and Environmental Protection took testimony from a host of witnesses during the daylong hearing led by Sen. Craig Barshinger., including representatives from the Water and Power Authority, the Energy Office, Georgetown Consulting Group, and the St. Croix Chamber of Commerce. The hearing took place in the Senate's Earle B. Ottley Legislative Hall on St. Thomas.
WAPA Executive Director Hugo Hodge Jr. told the senators he is painfully aware of the struggles caused by high energy costs in the U.S. Virgin Islands.
"Let me start by saying that the authority is very mindful of the hardship that is taking place in the community due to the high cost of electricity," Hodge said. "We know that our electrical rate is extremely high and indeed at the present price of 58 cents per kWH for residential customers and 54 cents per kWH for commercial customers, the authority's rates are among the most expensive in the United States. While compared to other Caribbean islands, the authority's rates are slightly above the middle of the pack, we understand that this is no solace to the people of the territory whose per capita income is among the lowest in the United States, and who are struggling every day to make ends meet."
Hodge's 31-page testimony represented a chance to assess where the territory is and how it got there in terms of its energy costs.
"To put things into perspective, in the past few years, the price per barrel the authority pays for fuel has jumped from $32.06 per barrel in October 2003 to a high of $132 per barrel in September of 2008, then down to $46.06 per barrel in April of 2009.
"Today, the price per barrel of oil paid for by the authority hovers at $138.50 per barrel. As a result of the massive spikes in fuel prices, WAPA continues to face operating cash shortfalls as our fuel expenses outpace the revenues collected under the LEAC," he said.
LEAC, or the levelized energy adjustment clause, makes up about 80 percent of the average power bill. It represents the cost of fuel oil for operating WAPA's generators.
Hodge told the senators the utility's ongoing project to convert its generating plants from petroleum to liquified petroleum or liquified natural gas will save an estimated 30 percent, which would allow the LEAC to be reduced by that amount.
He laid out a timetable of 14 months, although he acknowledged licensing and permitting issues might drag it out until the second quarter of 2014.
Larry Gawlik of Georgetown Consulting Group, which provides consulting services to the Public Services Commission, also testified, saying he thought the LPG conversion would be more likely to take about two years. He admitted he had no specific reason for suspecting the process would be drawn out, but experience with projects of that scope led him to make more conservative estimates.
However long it takes, it can't come too soon for residents of the island, witnesses said.
Aaron Willis, owner of the Fish Trap Restaurant and Seafood Market on St. John, said energy costs are unsustainable and are forcing businesses to make hard decisions about whether to pay rent and employees, or their power bill.
"The amount of electricity the islands uses has become astronomical and the price that WAPA charges for it is almost unheard of in other states," Willis said. "We cannot sustain a vacation destination if we are not competitive.
"My rent is $5,000 a month and my utility bill is now over $7,000 a month. That is 12 percent of my gross sales in high season and over 20 percent in low season. I know of at least six food service businesses that have gone out of business and many others are complaining or trying to sell out. Virgin Islands Water and Power is squeezing the small business out of business. Many of my chef friends now operate small private chef companies that will cook in private villas using the villa power so that they don't have exorbitant electricity bills."
WAPA's generators don't just burn expensive fuel, they do so inefficiently, according to Gustav James, an engineer and owner of James Special Spaces Inc. on St. Croix.
Based on calculations from his own power bill, James said WAPA's generators run at 18 percent efficiency. That figure turns out not to be far off, said Hodge, who said the units average 21 percent efficiency.
"Now this is not a good number," James said. "When I first did this calculation two years ago, I was expecting to find at least 30 percent. I didn't expect anyone to operate a power plant with a fuel efficiency under 30 percent in this age of high fuel prices."
James said the current generating turbines could be replaced and the new, more efficient reciprocating generators would pay for themselves in less than a year in savings. That would make financing extremely attractive, and allow an initial LEAC reduction even as the new units were being paid for.
"We have to stop feeding WAPA's furnaces with dollar bills," James said.
Hodge's testimony also discussed contracts for solar-generated power of 18 megawatts, and continued exploration of wind power.
Committee chairman Barshinger said the issue is of great importance to everyone in the territory.
"Our residents are hurting. Some have even resorted to camping out in their homes. Our businesses are closing," he said.
Representatives from the St. Croix Chamber of Commerce and business owners testified of the struggle of businesses in the territory to keep their doors open because of the high cost of electricity.
Karl Knight, director of the V.I. Energy Office, informed the committee of the programs that his agency is administering with grants received from the American Recovery and Reinvestment Act. These include the Weatherization Assistance Program that installs a energy efficiency appliances in the homes of low income Virgin Islands residents, including energy-efficient refrigerators, compact fluorescent light bulbs, and solar water heaters.
Committee members in attendance Friday were Sens. Clarence Payne III, Clifford Graham, Alicia Hansen, Donald Cole, Sammuel Sanes and Diane Capehart. Other senators taking part included Senate President Shawn Michael Malone, and Sens. Nereida Rivera O'Reilly, Janet Millin Young and Tregenza A. Roach.