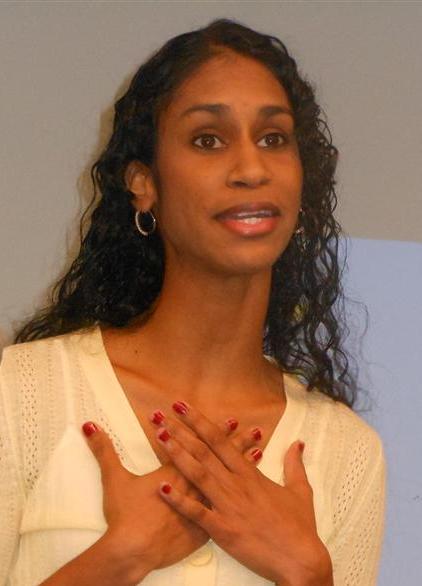 A university president and a university junior spent an unusual Monday this week, in one another's shoes – hers a size 8, his somewhat larger –and they both lived to tell about it
Thursday afternoon.
University of the Virgin Islands President David Hall and UVI junior Marsha Laurencin recalled their experiences at UVI's first "President for A Day" role reversal to the delight of a packed audience in the school's new Neil Weiss Educational and Seminar Suite in West Residence Hall – where, incidentally, Hall spent Monday night, while his counterpart slept in the president's on-campus guest quarters.
Laurencin is from St. Lucia, one of five siblings, and the first to attend university. A tall, attractive young woman, Laurencin exhibited the poise and intelligence that got her through her unusual day. A little nervous at first, she soon put that in her back pocket when reciting her experience.
"My life on campus will never be the same," Laurencin began. "I thought I knew what to expect, but it was much more intense than I'd imagined and I had the camera man following me all day."
The university's president, also tall and handsome, took the same youthful delight in recounting his adventures. Hall even appeared a bit nervous at first.
Laurencin admitted she actually had been shadowing Hall for a week before stepping into his shoes Monday. In heels, she noted.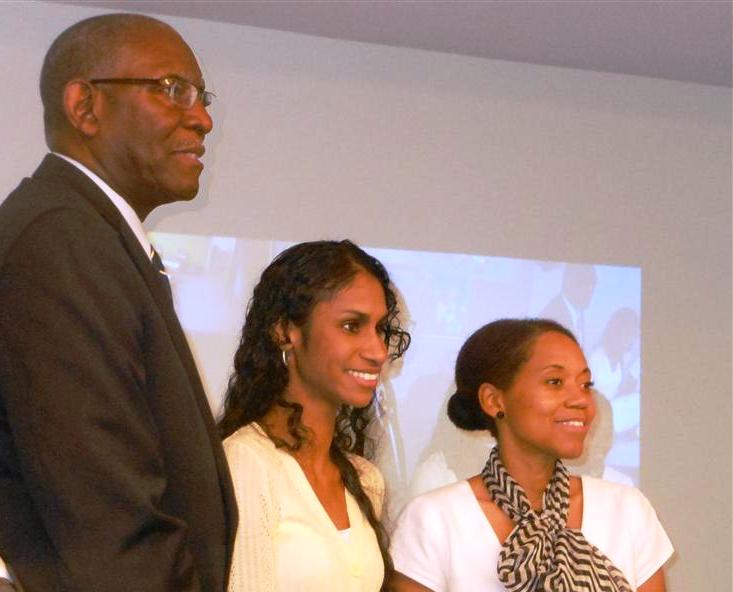 Hill, on the other hand, said he was advised on dress and other student considerations by his "parent/wife." It was as if it were his first day on campus.
"My parent/wife said to bring sheets and pillows," Hall said. "I was amazed. She said 'this isn't a hotel, you know.' She put a Jamaican medallion around my neck to show I had a Jamaican girlfriend."
Laurencin's day was taken up with meetings – university board, the cabinet and the Student Government Association – but the highlight of her day was the opportunity to present to her cabinet a proposal for her own campus composting project.
Laurencin outlined the project, complete with a power point presentation, describing how it could be sustainable and how it could be incorporated into the UVI curriculum. "The theme is 'Make Compost, not Landfills,'" she said, adding that she thinks "they were receptive to the idea."
Another unanticipated highlight occurred as Laurencin was having lunch with board member Edward Thomas. "Just as we were deep into a discussion, a student walked in and interrupted us," she said. "As president, I have an open door policy, you see."
"The student, David Hall, wearing a backpack and headphones, just burst in on us with a question about the campus shuttle," she said. "Well," she said, "I told him I'd have an answer later that afternoon and went back to my discussion."
Laurencin said she learned a lot about leadership and how important it is to be humble in a leading role. "You know," she said, "You have to create a warm personality, listen to people. If you were a grouchy person, you would just create havoc."
Another of Laurencin's passions is fundraising. She showed a handsome cardboard model for this year's UVI goal of $3.5 million with a milk bottle indicating where the fund is right now. "I left office too early," she concluded.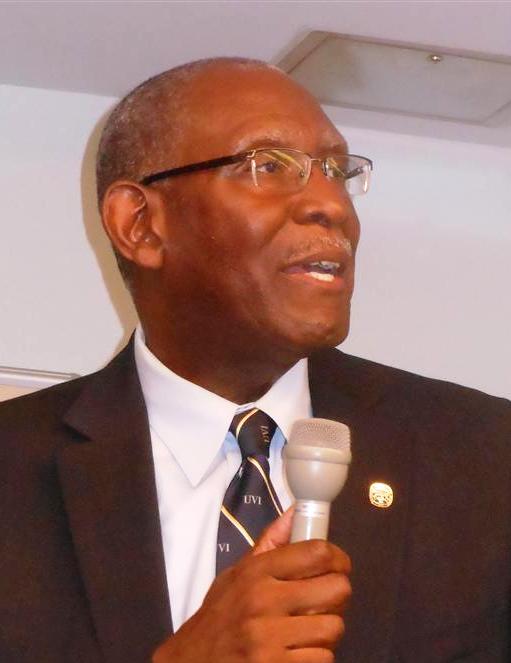 Hall said he arrived to his 8 a.m. organic chemistry class early, and with an iPad, which he said his "wife/parent had questioned."
"Everyone else had notebooks," Hall said. "We were asked to draw a formula. On an iPad?"
Things improved after that, however, up to and including dissecting a lionfish. "It was fascinating," Hall said. "We had to remove and weigh its reproductive organ which was beautiful, a work of art."
He said the students gradually accepted him throughout the day. "I purposely ate lunch alone in the dining pavilion," he said, "but several students came up to me just to be friendly. They called me 'David.'"
Hall said he was accepted in the dorm suite where he was invited to play video games. "I haven't done that since my grown daughter was 6," he said, "and I was lost badly."
He said the most important thing he learned was how the role reversal affected others. "In the campus community, it's good to get out of routine," he said. "That is why I interrupted my replacement as I did when she was busy. I wanted to her to see what a president's day is really like, with all the unplanned interruptions. She handled it very well."
Speaking of interruptions, Hall went to the wrong financial office to see about financial aid. "Well," he said, "Shirley Lake-King, vice president for Administration and Finance, told me, 'You are in the wrong office. You need to read your catalog more carefully.'"
After which, Hall said, "Miss King wrote a note to my parent/wife. Well, they got into it. My parent/wife, like any good mother, wrote her that her child would never go to the wrong office. I really had fun."
At the close of the ceremony, Laurencin was awarded a $1,000 scholarship by Dionne Jackson, vice president for Institutional Advancement and chairwoman of the UVI President for a Day Committee.
"We congratulate Ms. Laurencin on being named our first 'UVI President for a Day,'" Jackson said. "Many students applied; the competition generated great buzz and excitement. This initiative is meant to offer a unique professional development exercise while offering our students insight into the realities of running a university."
And she congratulated Hall on his lionfish dissection.