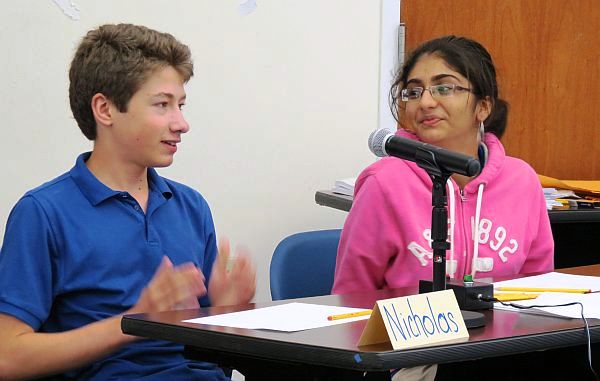 Minutes before the second place team was announced during Thursday's St. Thomas-St. John District Mathcounts competition, Antilles School coach Michele Garcia closed her eyes.
"Okay. Come on. Please," she said, waiting for the results. Just moments before, All Saints Cathedral School had been named the third top team in the competition, leaving just Antilles and the V.I. Montessori School & Gruber International Academy vying for the top spot.
Despite words of support from parents, Garcia said it was "still mathematically possible" that Montessori could pull off the win. But her fears were unfounded, and the shrieks from her students filled the University of the Virgin Islands Administration and Conference Center as Antilles was called up to take the first place trophy.
Antilles School dominated in the district competition last year, winning top team and sending an overall six students onto the territorial competition on St. Croix. This time around, the school boasts seven out of the district's top 10 mathletes, who will be moving on to face off against St. Croix's top 10 next month.

The Antilles team is made up of Nicholas Midler, Pooja Chainani, Manav Thadani and Mansi Totwani. Joining their teammates in the territorial competition will be Jonathon Qualls, Maggie James and Simran Mirchandani, who also had the highest individual score Thursday.
Mirchandani, an Antilles eighth-grader, said afterwards that she volunteered to participate in Mathcounts after a parent suggested that she might be good at it.
"I had so much fun," she said. "Now I wish that there was something like this in high school because this experience was one of the best I've ever had."
Mirchandani said many of the team's practices were held over the weekends. "We would meet on Saturdays with Mrs. Garcia. We ordered Dominoes and just did math together," she said. "It was great."
Mirchandani was breathless when she was called up to receive her first-place trophy and she continued to beam as her teammates, family members and others in the audience gathered around and offered congratulations.
Teammate Midler was ranked second overall in the competition and he also described the experience as exciting and "challenging."
"It was amazing," Midler said. "We practiced a lot as a team, so things went quickly when we were up there. The math was fun and, overall, I think everyone had a great time."
Joining the Antilles group in the territorial competition will be Allison Bartsch and Axel Bartsch from the V.I. Montessori School & Gruber International Academy and Tekettay Ludvig from the Bertha C. Boschulte Middle School.
Speaking later, Ludvig also said that his team's practices helped prepare him for the competition. Boschulte team coach Astrid Hypolite said that while some of her seventh-grade and eighth-grade students had seen some of the complicated Mathcounts problems in their own school classes, many also had not, so she used standardized test questions to help prep them for what they might face.
Hypolite said she also worked with her students on the Plato educational program, which helped them understand how to solve problems.
"We offer this as an elective class at the school, so the students chose to participate," she explained. "We practiced for 45 minutes each day, using the resources available to us and I found that the students were willing to learn and enthusiastic about the math."
Asked how it felt to have the only public school student in the top 10 Thursday, Hypolite said, "wonderful."
Mathcounts is a national program meant to foster interest in math among middle school students and the annual competition tests their skills in algebra, geometry, probability and statistics. A total of six schools from the district participated this year, along with 53 students.
This year's district competition was sponsored by the V.I. Department of Education and the Rotary Club of St. Thomas II.