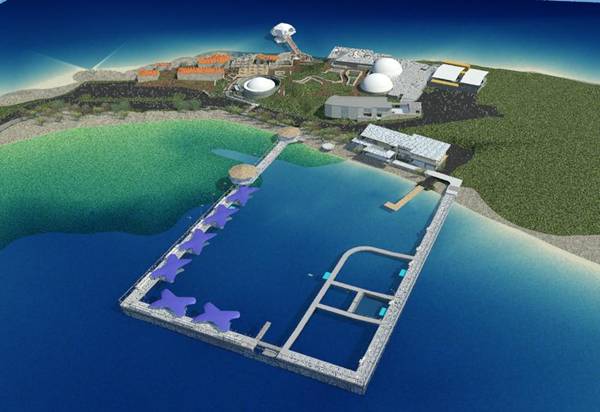 Plans are in the works for a dolphin swim at Coral World Ocean Park on St. Thomas, manager Trudie Prior said.
"People want to be really close to animals," she said. "Being a spectator at a small aquarium is not going to cut it."
Prior said the proposed dolphin swim is also an effort to make Coral World more financially viable, after struggling for several years.
The goal was to open in the 2013-14 tourism season, but Prior said the summer of 2014 is more realistic because there have been delays in the Coastal Zone Management process.
She said the Planning and Natural Resources Department's State Historic Preservation Office must complete a study to determine if there are any historic artifacts in the area before the project can go to public hearings.
Coral World already has a swim-with-animals attraction. Prior said its sea lion swim, which opened in 2007, is very successful.
The dolphins that Coral World plans to buy already live in captivity. Prior said several facilities across the Caribbean have breeding programs, and the up to 10 dolphins at Coral World will come from one of those programs. Prior said the dolphin swim will probably start with six dolphins.
"We'll build a natural and normal social group with these dolphins," Coral World curator Lee Keller said.
The group will have a matriarchal female and several young females as well as a couple of young males.
"A sort of bachelor group," Keller said.
The dolphins will live in confined space in the ocean at Water Bay that's about two acres in size. Keller said that concrete pilings will connect four-inch stainless steel mesh that serves as the pen's walls.
Prior said it will have a sanctuary where dolphins who are tired of company can retreat.
"Nobody's going to bug them while they're there," Keller added.
Additionally, the pen will have a maternity area where pregnant dolphins will give birth.
An area in the pen will have a liner that can filter water if for some reason the water in Water Bay becomes contaminated.
"And we'll be able to lift dolphins out of the water in case of a hurricane," Prior said.
Keller said in that case the dolphins would remain inside a building in transport boxes until the hurricane passes.
"They should be able to ride it out without any problem," Keller said.
A viewing platform will sit adjacent to the pen so people who want to just look rather than swim can gather.
The cost of the project is roughly $7 million, and when completed, will add 24 full-time positions to the company's current payroll.
The project has been controversial with many travel forum participants who live on the mainland signing petitions against it. Additionally, many V.I. residents also signed the petition. As of 4 p.m. Monday, 1,228 people signed petitions stating that they were against the dolphin swim.
"We can see the dolphins when we are out sailing," wrote Marie Pohlman of Connecticut when she signed the petition. "We don't have to get personal with them in a pool. Let the dolphins live as Mother Nature intended, FREE."
The petition drive was spearheaded by St. Thomas resident Fiona Stuart, who said the petitions will go to CZM, Gov. John deJongh Jr. and the Legislature. She's also started a group called V.I. Dolphin Voices.
"I object to the captivity of wild animals forced to perform solely for commercial reasons," Stuart said.
The petition reads: "We urge you to say NO to captive dolphins on St. Thomas. Keep wildlife in the wild!"
"Dolphins are highly intelligent, sentient beings that swim up to 100 km a day in the wild. In captivity they suffer restricted movement, forced human contact, artificial social groupings, being fed dead fish, exposure to loud sounds and the performance of unnatural activities in exchange for food rewards," the petition continues.
"The proposed Dolphinarium is an open water facility in Water Bay, a problem area with sewage runoff from surrounding homes during heavy rains," the petition says. "Captive dolphin waste sinks to the ocean floor and currents don't wash it away. This 'attraction' is proposed purely for commercial gain and teaches people that exploitation of animals is acceptable for the sake of turning a profit."
Calling it a modern-day circus, Stuart said the Virgin Islands should take a leadership role in preventing the dolphin swim from happening.
Stuart said she's also concerned about the planned location. She said there is little wave action in Water Bay as well as sewer runoff from Smith Bay in heavy rains.
"Sometimes there is human sewage floating in Water Bay," Stuart said.
She said the dolphins will be swimming in an area already polluted, and their feces will further contaminate the water.
"Furthermore, they're asking tourists to get into the water," she said.