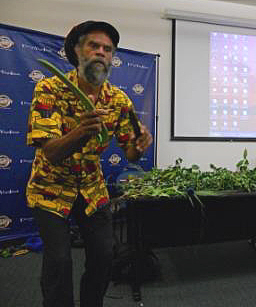 About 100 people from dozens of service, government and tourism sectors took a pledge on Monday to educate tourists on the local culture and to make them feel more welcome. Spectators filtered in and out of the University of the Virgin Islands during presentations as they participated in lessons and skits learning about the impact Virgin Islanders have on tourists' experience.
Speakers reminded those present that the territory's well-being and economic development depend on how residents interact with visitors. They also stressed the importance of authenticity in self and in the local culture, asking audience members to take pride in their unique home.
"We really don't have a choice anymore. We have to up the ante," said Charlene Springer, lecturer and customer service trainer.
The Department of Tourism held the event in honor of National Travel and Tourism Week, urging attendees to "Become a Better Tourism Ambassador."
Speaker Delroy "Ital" Anthony hit these points as he worked to educate the audience about local plants, some growing in your own backyard, he said. The conference room smelled of herbs and earth as he passed around medicinal plants and jewelry made out of seeds. Anthony also stressed the economic benefits of the territory marketing its useful plants.
Like Anthony, Springer visually shared her concerns as she brought forth spectators to perform skits representing what visitors experience in the Virgin Islands. Listeners were faced with the reality of their behavior as they saw how body language, tone of voice, and how people are dressed can affect tourists' experience.
Springer worried that locals are not finding a level ground to relate to tourists and as a result, their experiences become isolated. It's also crucial, she noted, to get to know who you're dealing with and work towards his needs and interests.
Lecturers Dawuud Nyamekye and Randy Fish found that they continuously educate tourists, but rarely get an opportunity to speak to locals.
"Our history is bigger than St. Thomas," Nyamekye said as he explained how countries like Africa, Denmark, France, and more contributed to our culture today.
Nyamekye gave an extensive history lesson on everything from how the islands were formed to settling in the Caribbean. There is a dark side to our history that we shouldn't ignore, Nyamekye stressed. He asked that locals share their history of slavery and bloodshed during revolts and fights for lands, as well as the Caribbean's struggle for new industries that didn't require slavery.
Randy Fish also concentrated on teaching locals a thing or two as he learned several of those present had never even snorkeled.
"Coral reefs are the most important ecosystem on the planet," Fish said. "There's more life per square area than any other ecosystem."
Fish quoted a frightening statistic from University of the Virgin Islands students who discovered that 95 percent of people who do not do aquatic activities like snorkeling are not concerned with the fate of the reefs.
Karl Sutton, an audience member who pledged to teach tourists about the Virgin Islands, noted that in educating our visitors, we too will learn.
Visit www.usviservicepledge.com to pledge to be an ambassador for the Virgin Islands.