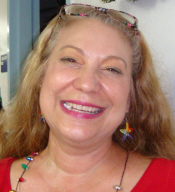 For 20 years, Marleen Dykhuis has been on the front line in the Virgin Islands, advising, consulting and teaching people about one of the most basic elements of good health: food.
A graduate of Kansas State University, she earned her Bachelor of Science in Dietetics in 1992. She is a registered dietitian (RD) and a member of the Academy of Nutrition and Dietetics. She also has a master's degree in Organizational Management from the University of Phoenix.
She worked at the Roy Lester Schneider Hospital for 10 years, spent another seven years in private practice, and then joined the team at Sea View Nursing and Rehabilitation Facility. She also teaches a course in human nutrition at the University of the Virgin Islands Division of Nursing Education.
As Sea View's food service director, Dykhuis evaluates patient needs, handles the kitchen inventory, creates the menus and manages the kitchen.
The main facility has a capacity of 40, but Dykhuis said there are usually about 30 long-term care residents and perhaps four or five patients who are recovering from surgery or injury and are only short-term. Additionally, there is a psychiatric unit for children and teens, but her role there is more limited.
When a patient is admitted, Dykhuis makes an initial nutritional evaluation; she re-evaluates the long-term care residents every three months after that.
"Everything's regulated by the federal government," she said, including how to determine a patient's dietary condition and needs.
Of course, the person's age, gender, weight and height are important, as are any underlying diseases or medical conditions. Consideration also is given to a wide range of individual factors, such as dental condition, eating ability, and food preferences and intolerances. Dykhuis said she can get much of the information from medical records, but also visits the patients to "ask a lot of questions" and to examine their general appearance.
"We don't think of malnutrition in the United States," she said. But many people here do suffer from malnutrition as a result of sickness and its complications.
Even medical treatments sometimes impact a person's diet. For instance, antibiotics can cause nausea, diarrhea and a loss of appetite. Anesthetics can have similar effects. And of course a person lying in bed isn't likely to develop a hearty appetite.
One visual clue to a person's diet is the skin.
"Your skin's going to break down," Dykhuis said "if nutrition is poor" and especially if you develop bed sores.
In such cases, she may recommend a supplement, and certainly a diet rich in protein.
"I vary the menus," she said, and in general, she plans meals that are heavy on fruits and vegetables, avoids fatty and fried meats, keeps sugar to a minimum. She favors fresh produce, but provides canned fruit for older people who have trouble chewing raw fruits.
"We puree all the food too" for those who have difficulty chewing and/or swallowing.
While the general menu is what we have commonly come to think of as "healthy," in some cases the rules don't apply.
"A lot of people don't want to be told what to eat," she said. "We can make the fish broiled. But they're really not interested" which means they don't eat, which means they aren't getting nutrition. The menu features fried chicken once a month, and fried fish once a month. "Those are the favorites."
If a person has little appetite, it's important to do what you can to encourage them to eat, Dykhuis said. Don't make them eat in isolation; it's a social activity. As much as possible, offer them foods they enjoy. And give them small portions.
"If you give somebody a big plate of food and they don't want to eat, they're going to feel 'there's no way I can eat this' " and may give up before the first bite.
When "every bite counts," Dykhuis recommends loading them with calories; put extra butter and extra sugar on those bites.
There's also a school of thought that a senior's quality of life can be improved by a less-restrictive diet.
"I have people who I will give whatever they want," Dykhuis said. "I've kept people alive on ice cream."
Clearly, that's a special case, and not what Dykhuis recommends for the vast majority of us who are less likely to need to stimulate our appetites and more likely to need to curb them.
"I've struggled with my weight, so I understand the challenges," she said. "You can't give up."