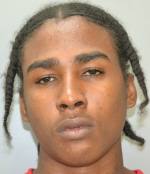 Clemet King III, 27, was arrested about 4:30 p.m. Thursday after he was found in possession of a stolen firearm. The firearm was reported stolen at a March 15 residential burglary in Estate Frydendahl, the Police Department said in a press release issued Sunday.
Police Department spokesman Melody Rames said she had no further information on King's arrest including where he was arrested.
King's bail was set at $25,000 and he was remanded to the custody of the Bureau of Corrections pending his court appearance.