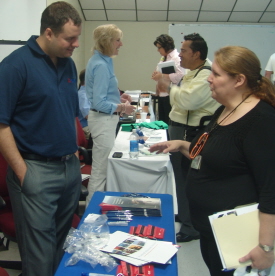 For the roughly 1,100 workers of Hovensa losing jobs because of the shutdown of the St. Croix refinery, there are plenty of opportunities for future employment – but most of them are far away from the island.
Hovensa is holding a career fair for current employees, inviting 122 representatives from 25 companies that are looking for employees and hoping to skim the cream of St. Croix's crop. The fair will continue from 8 a.m. to 5 p.m. Saturday and Sunday at the Hovensa training facility, and any active Hovensa employee can check out the companies looking for people with their skills.
The future is rosiest for those Hovensa employees with engineering degrees, as virtually every employer at the event was looking for engineers. But there were also companies on the lookout for all the other skills and experiences necessary to run a business.
Michael Moore of Honeywell said his company hired 1,100 people last year and plans to increase that to 1,200 new hires this year, adding to the 130,000 the company employs in its North American operations.
Honeywell is looking for everything – salaried workers and hourly wage earners, Moore said, in every category, from engineers to senior process operators, information technology specialists – also known as computer guys – project managers, accountants and administrators.
"Basically, every person in this plant could have a potential future with Honeywell," he said.
The company doesn't pay quite as well as some of the others at the career fair, but it offers something most others don't – a long-term career. Honeywell is big enough to be stable, able to weather economic ups and downs, he said, and its work is diverse. When the company hires a young engineer fresh out of college, it's with the goal of having that employee moving up through the ranks and still working with Honeywell 30 years later.
"We don't want people to leave," he said. "We like to think we're a premier employer."
By 11 a.m. Friday, with the career fair only two hours old, Moore had already scheduled several Hovensa employees for phone interviews with Honeywell brass next week.
"Before I left to come here my boss told me If we don't hire at least 15 people out of this, I'm fired," he said.
But he was competing with a lot of other companies, and one of them is very familiar to the employees of Hovensa. Hess, one of the corporate partners in Hovensa, had a table at the fair, and was looking to add employees, especially at its refineries in North Dakota.
The advantage for the Hovensa workers is they already have time in with the company and can carry over their pensions. The downside, of course, is that they'd have to leave the Caribbean and move to North Dakota.
For the company, it's the chance to retain employees already familiar with the corporate culture and safety ethos. And according to Terry Schmaltz, North Dakota's population of only 700,000 is growing rapidly thanks to the expansion of the oil industry there.
Hess is hiring people as fast as they can get to the state, he said.
Not all the firms taking applications were from the mainland. International Capital and Management Co. of St. Thomas was on hand looking for managers, financial analysts, Lean Six Sigma trainers and IT professionals. The University of the Virgin islands was well represented, offering education alternatives for those seeking new employment who don't want to leave the island.
But the majority of the positions being offered at the training center were from far afield – besides North Dakota there was Texas, Louisiana, Alabama, Florida, South Carolina, California, Illinois, Minnesota and Georgia. Houston, the unofficial capital of the U.S. oil industry, was the return address on many of the business cards handed out.
The question Jason Lavinder of Brunel Energy Inc., asked over and over was, "Do you have any idea where you want to go? Where you don't want to go?" because opportunities are everywhere.
For two Hovensa long-timers, it's a daunting thought. Etta Mitchell, with 12 years of experience at the plant, and Jaynae Williams, with five, walked through the fair Friday overwhelmed by the scope of possible future employers. It was encouraging, they both said, but a little daunting, and neither has decided yet whether she wants to leave the island that has always been home.
Raquel Ruiz-Casteneda came from Florida to St. Croix with her family three years ago and now is looking for her next job, probably in Florida. While she said it was wonderful for the company to hold the career fair to help its employees, the range of options suggested the many friends she has made at Hovensa and on St. Croix will soon be scattered.
"You build a family on the island, that's one of the benefits they don't mention," she said. "And now we're all going different ways."