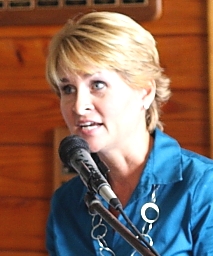 Judi Fricks Buckley urged local businesspeople to get involved in Virgin Island schools at a Rotary luncheon Thursday. Buckley is the executive director of Junior Achievement of the Virgin Islands, a nonprofit group that teaches entrepreneurship and practical business skills to students.
Buckley began her speech by saying that many of the Rotarians probably remembered her as the former chairperson for Crime Stoppers, and though that organization is very different from Junior Achievement, she said, the two were related.
"Crime Stoppers is a great organization, but it's one where we react to crime. It's an organization that reacts after a crime has been committed," she said.
She sees JAVI as a way to prevent crimes from being committed by attacking one of their root causes.
"The average age of a criminal here is a male between 16 and 24, and most of them are school dropouts," she said.
The goal of JAVI is to give children practical reasons to stay in school by teaching them lessons about personal finances and business.
"The resounding theme throughout the course is stay in school, stay in school, stay in school," Buckley said. "It teaches the students the correlation between education and income earning potential."
"We have an opportunity to teach them about the value of a good credit score," Buckley continued. "We teach them about the difference between paying for things with cash versus credit. We teach them about budgets. We teach them real life skills that students are not learning."
Junior Achievement is a national organization with lesson plans for all grades, but so far the Virgin Islands chapter has focused primarily on the seventh grade. Buckley explained that this is an age when many troubled students choose to drop out.
The seventh-grade course involves six one-hour classes taught over six weeks by volunteers from the business community. Volunteers blend prepared lesson plans with their own experience to give students a real-life view of the business world.
JAVI has a presence in many of the schools throughout the territory, but has not reached its goal of engaging all of the Virgin Islands' seventh-graders. Buckley estimated they reach just over half.
The organization is also expanding into the high schools. They recently conducted a 12-week afterschool course on St. Thomas that taught students how to start their own businesses from the ground up.
"Literally by the end of the seventh week, they will have learned how to write an entire business plan. Did any of you know how to write a business plan in high school?" she asked the Rotarians. "I did not. As a matter of fact, I've learned a few things from that course."
The students went on to sell shares in their company, build and sell their products, and tally up their earnings and losses at the end of the course, Buckley said. She was proud to report that every one of the students ended up in the black at the end of the program.
Buckley told Rotary members that the key to expanding these programs was attracting more volunteers. She said the program was not a cure-all for the school system's problems, but it was a good start and urged them to join the cause.
"Until we start taking our students seriously and not just singing songs about how the children are the future, nothing's going to change," she said.