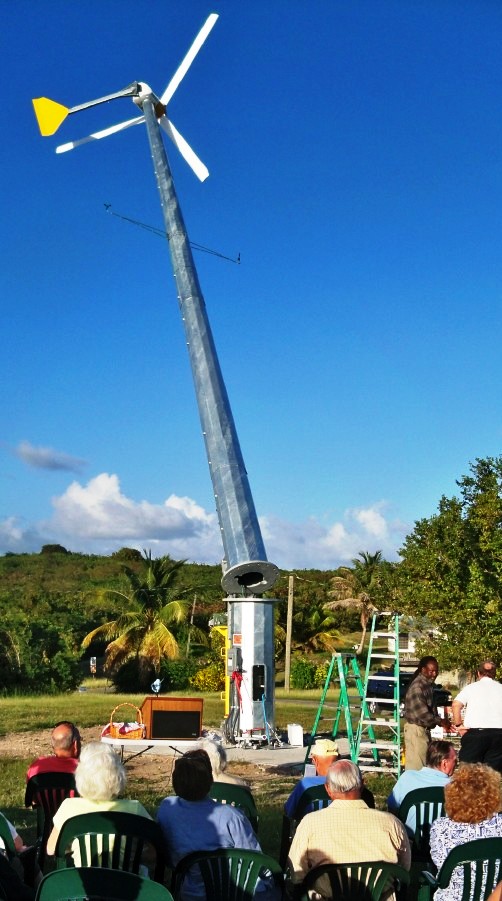 The wind turbine going up on Kingshill at St. Croix Reformed Church
How would you like to see your monthly Water and Power Authority bill just disappear? That is what Janie Koopmans, director of Kingshill School, and the Rev. Rodney Koopmans of St. Croix Reformed Church are planning to make happen with the installation of a new 10 Kw wind turbine.
About 80 interested residents, church members and public officials attended the turbine's dedication ceremony on Wednesday evening. The crowd sat on plastic chairs arranged on the grassy hillside as a gentle breeze kept the turbine's blades turning at a steady pace.
The turbine had gone through an inspection by the Department of Natural Resources earlier in the week and received approval from WAPA to tie into the grid in its net metering program.
In the net metering program, if the turbine produces more electricity than the school and church is using, the excess will be fed back into the electrical grid, essentially turning the church and school meter backwards.
The turbine was energized for a trial run on Wednesday morning.
Carl Joseph, energy analyst for the V.I. Energy office, observed the trials. The energy produced by the wind turbine during the trial was displayed on a connected website.
Joseph said he was very impressed with the figures that he saw and it certainly looked like a possibility that the church and school's combine WAPA bill of over $700 could be eliminated.
Calculations of the power being produced by renewable energy sources being placed on live websites has become common in the Virgin Islands. The Cyril E. King Airport has a site for its solar production as does the St. Thomas Montessori School.
"This is your tax dollars at work from the stimulus funds," Neil McQueen, a church energy team member, told the crowd.
Joseph Daniel, who oversaw the discretionary grants administered by the V.I. Energy Office under America Recovery and Reinvestment Act of 2009, was one of the featured speakers.
Daniel said this project was unique in several ways from the 19 other grants he oversaw. This is the only grant that went for a wind turbine. He added that this grant proposal was the only one he saw that included a regular maintenance schedule and also a plan to replace the turbine after 20 years.
"It is great to see it up and operating and blowing in the wind," said Paul Chakroff, executive director of St. Croix Environmental Association. "It is working and not just being talked about."
Lt. Gov. Gregory Francis said, "I encourage more members of the community to make the conversion to get off fossil fuel. This shows a real commitment to make a difference in energy reduction."
Energy Office spokesperson Don Buchanan said that if the wind turbine lives up to its promise it will pay for itself in six or seven years. The ARRA grant was $50,000 and the church contributed $16,500 to the project.
He added that the governor had set the goal of reducing the Virgin Islands dependency on fossil fuel by 60 percent by 2025. "This is definitely another step in the right direction."