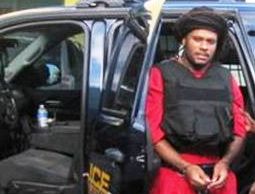 As many as a dozen men and women were present, some cooking up crack cocaine, while V.I. Police Cpl. Wendell Williams was tortured, murdered and cut up into pieces in June 2001, prosecutors alleged during a detention hearing Wednesday for five charged in the crime.
Sharima Clercent, 32, of Estate Two Williams; Jose G. Ventura, 41, of Estate Whim; and Maximiliano Velasquez, 38, of Estate Clifton Hill were arrested Feb. 9 on St. Croix on charges related to Williams' disappearance on June 13, 2001. Juan G. Velasquez, 29, surrendered to V.I. police the same day. Jose M. Rivera Jr., 39, was arrested in Georgia and extradited to St. Croix.
Detective Frank Ortiz, a criminal investigator in the St. Croix Cold Case Squad, recounted harrowing details of the alleged crime, as told to him and other officers by an unidentified witness, to argue the defendants should be held in jail without bail during their murder trial.
When the Cold Case Squad got the case files from the Federal Bureau of Investigation in 2011, they received information with some of the names of suspects, which they used to create a photo array. The witness identified the five defendants and described the roles each played in Williams' torture and murder.
According to Ortiz's account of what the witness informed police, Williams spent the last few hours of his life on his knees with his hands tied to a pole behind him in an abandoned building on the property of the old Grape Tree Bay Hotel. The witness saw Williams being beaten, "then they tortured him by means of electricity" using an extension cord plugged into a portable generator, the witness told them, Ortiz said. Around him, people cooked up crack cocaine in a homemade lab, he said.
Along with the defendants, several other individuals, including some from St. Martin, were also witnesses, Ortiz said. "We are talking about 10 or 11 individuals present," Ortiz said. Several others, from St. Martin were allegedly also present, and are under investigation too, but were not identified by the witness as having taken part in the torture, killing or disposing of Williams.
After the electrical shock torture, Rivera allegedly shot Williams in his hand, and while he was pleading for his life, shot him in the head. Then Rivera allegedly picked up an electric reciprocating saw and dismembered him, with several defendants helping to put the parts into bags. They dragged Williams' remains a short distance to the shore, where Maximiliano Velasquez piloted a powerboat with the name "Ashes" and they dumped Williams' into the sea about two miles north-east of Buck Island, according to the account provided by Ortiz.
Clercent's alleged role was more after the fact, in concealing the crime. "She basically cleaned up," Ortiz said, elaborating that she took buckets of water and scrubbed the area where Williams was dismembered.
Asked what motive the witness gave for Williams' killing, Ortiz said there were two tentative and vague motives cited: that Williams had "touched something he wasn't supposed to," which the witness said would have meant either drugs or guns. And that Williams may have been about to arrest or turn the defendants in.
All the defendants face up to life in prison without parole.
Wednesday's hearing was preliminary and no trial date has been set. V.I. Superior Court Judge Julio Brady did not rule on pretrial detention Wednesday, saying he would issue his ruling within a week, after defense and prosecution submit written arguments.
The defendants were remanded back into custody pending Brady's ruling.