Working your way through a patient's heart is complex, sophisticated work, but for doctors Kendall Griffith and Michael Potts of the Virgin Islands Cardiac Center, the bottom line is simple.
"We save a lot of lives," Griffith said.
February is National Heart Month, and the cardiac center held its open house Wednesday, taking visitors on tours of the 25,000-square-foot facility that opened a little more than three years ago.
The entire center was open to the public, from the lobby to the diagnostic and rehab areas.
Cardiologist Potts said the open house was to let people know what services the center provides and to "give our thanks to the community for their support."
Griffith said the center is shifting the long-standing paradigm that if you needed serious medical attention you had to leave St. Croix and look elsewhere. Now, he said, the rest of the world is eyeing the VICC as a place to go for the best care.
Potts and Griffith said the center draws patients from across the Caribbean and beyond, and that's without a marketing program. They said patients are more likely to come if there is integrated marketing that includes special rates on flights and hotel stays, among other things
"It takes the whole community," Potts said.
Leading a tour of the facility, nurse manager Lorie Trotman showed off the diagnostic area, which features not just the EKG equipment that fans of medical TV shows are familiar with, but also tilt-table testing, echograms and transesophageal echograms, and angiograms, among many others.
Trotman also displayed a series of pacemakers, which can be installed to regulate heartbeats in less than 90 minutes.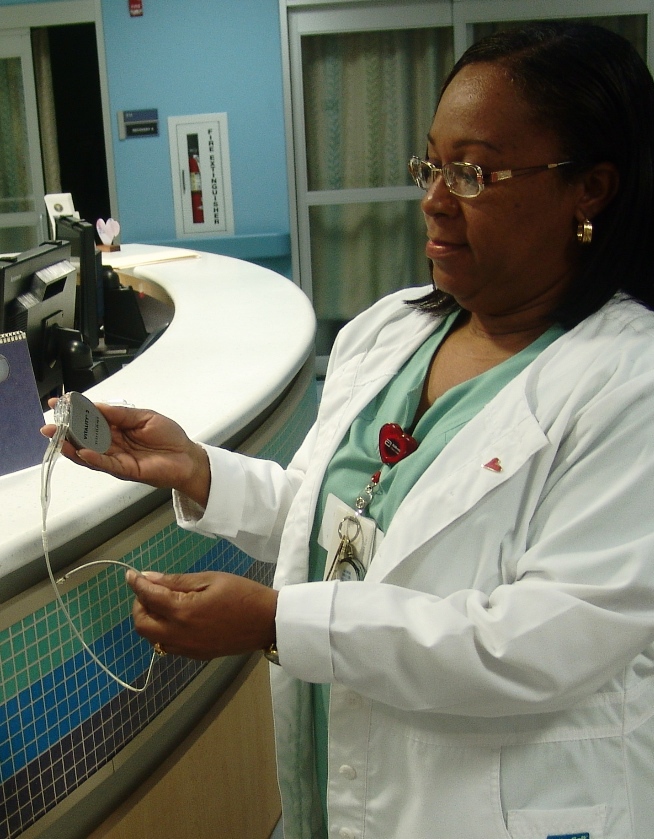 In the cardio lab, or cath lab, the table waited for patients, surrounded by the monitors, controls and readouts that make it seem less like medical equipment and more like a big video game. Trotman explained what the equipment did and how various team members work together to treat patients.
When a patient is brought in from the emergency room, the team's goal is to remove the cardiac blockage and to restore circulation within 90 minutes. Trotman said with pride that they average 72.
And downstairs, adjacent to the center's conference rooms, is the rehab center, where manager Andrew Edwards reigns over a roomful of exercise equipment that would be the envy of any gym in the Caribbean. On most days he has as many as eight patients at a time working "very carefully" to rehabilitate after their procedures, he said.
Patients also receive dietary consultation, relaxation help, and occasional counseling.
Wednesday's open house was the first of a trio of events at the hospital this week. At 5:30 p.m. Thursday, Jeff A. Nelson, chief executive officer of Juan F. Luis Hospital, will conduct a "town hall" type meeting on uncompensated care with proposed solutions to care for the uninsured.
Beginning at 8 a.m. Friday, St. Croix students from 9 to 11 years old will take part in Kids Heart Power Day, a series of workshops that promote heart healthy lifestyles.