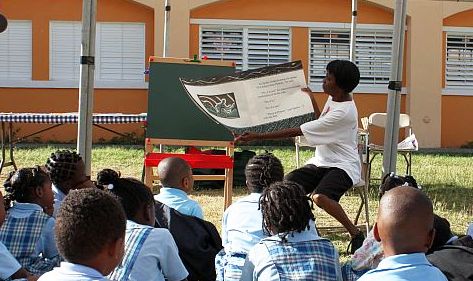 As a tribute to her son on what would have been his 29th birthday, Josephine Hodge spent Wednesday morning handing out apples and books, and treating kindergartners at Lockhart Elementary School to a day of "healthy fun."
Hodge's son Nigel, a sixth-grader at Lockhart, died in 1994 from complications brought on by Hodgkin's disease, a type of cancer that attacks the lymph nodes. Nigel spent two weeks receiving medical treatment, but passed away just a month after his first symptom appeared in the form of a lump under his arm. He was 12 years old.
A series of medical mistakes that allegedly occurred during Nigel's treatment prompted the family to file a wrongful death lawsuit, which was settled in 1996. Funds from the settlement have subsidized the Nigel O. Hodge Foundation Fund, under the Community Foundation of the Virgin Islands, for more than a decade. The Foundation has provided more than $40,000 to children in the Virgin Islands, Anguilla, the Bahamas, and the Dominican Republic.
While working with various schools around the territory, Hodge has specifically adopted the Health and Fitness Program at Lockhart and has provided the school over the years with a variety of exercise equipment, including treadmills, elliptical machines and exercise bikes.
"At the time of Nigel's death, I was in so much pain," Hodge said in a recent interview. "I had to do something to carry on, help other children to stay healthy."
"Just the pain of losing him inspired me to go and help somebody else – another family, another child. Since Nigel was a student here, we adopted Lockhart School, and every year we do something positive for the students."
The theme of this year's event was "Building a Happy, Healthy Me," which was meant to teach students that exercise, learning and fun can all go hand in hand.
"Health is definitely a big topic in the news now, and everyone is very focused on being healthy, so I thought we should combine that with education this year, and teach them something that touches on both things," Hodge said.
While Hodge read storybooks to the school's 100 kindergartners, Ellie Hirsh from Community Foundation's The Family Connection was also on hand to guide them in several play-learn sessions, which had the students moving to music, and even using measuring to create their own clay.
"We want them to be creative, to use problem solving in building and making things," Hirsh said. "We want them to know that learning is fun and that they can always be healthy and learn at the same time."