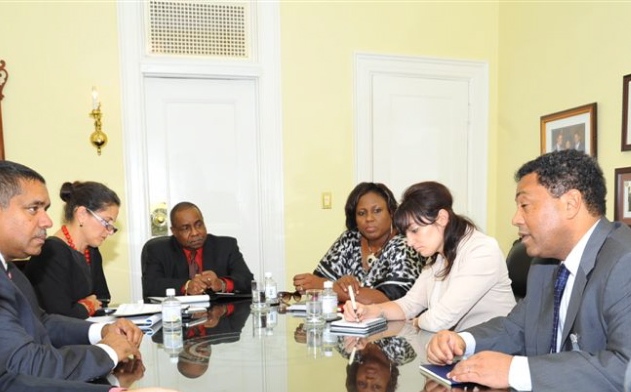 Gov. John deJongh Jr. and Human Services Commissioner Chris Finch met Wednesday with a federal official to discuss family assistance programs available to residents of the territory.
Earl Johnson, director of the HHS office of Family Assistance programs, is visiting the territory in support of the Man Up programs that took place this week on St. Croix and St. Thomas.
Johnson is responsible for the $17 billion Temporary Assistance to Needy Families program (TANF). The V.I. Department of Human Services administers TANF and other cash assistance programs for seniors and people with disabilities that come under Johnson's purview.
DeJongh said he and Johnson discussed successes the territory had in "operating a subsidized employment program with stimulus funding. And our interest in doing more if funding is again available," he added.
Also discussed was DHS interest in programs for responsible fatherhood and healthy marriages. Even though the territory was not successful in receiving grants for these initiatives, deJongh and Finch wanted to reapply if there is a new round of grants.
Limits to the TANF and other cash assistance funds available for the Virgin Islands were also discussed, limits that might cause trouble for the territory with the Hovensa refinery closure.
DHS Assistant Commissioner Michal Rhymer Charles and DHS Administrator of Family Assistance programs Lenox Zamore also attended.