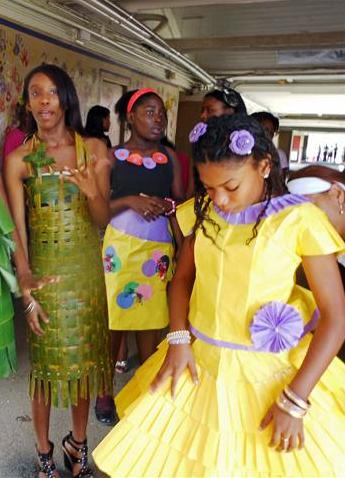 It was the girls' day at Addelita Cancryn Junior High School on Thursday, and excitement abounded from the young girls as they had the campus to themselves for the second "For Girls Only" conference.
The boys were dispatched to the University of the Virgin Islands campus for the Man Up conference.
All dressed in bright pink T-shirts, 256 girls from the tiniest seventh-grader to Principal Yvonne Pilgrim made them most of their one-day rule.
Giggles and shouts ruled the afternoon as the students cheered one another on in a one-of-a-kind fashion show of recycled materials.
In the morning they gathered to hear WVWI radio host Lesley Commissiong, successful entrepreneur and political operative who has worked across the country in multiple campaigns. Along with the Cancryn students, a handful of girls attended from the Seaview Nursing Home special education unit.
"It's really good for the girls to be here," said teacher Peya Howard.
Commissiong paid tribute to the school's namesake, Addelita Cancryn, and recognized Rosa Parks as a mother in the civil rights movement in honor of Black History Month. Then Commissiong got down to business.
"Don't be afraid to be different, encourage diversity in your friends," she said.
She had the girls in the palm of her hand from the get-go. She was speaking a language they understood. She didn't mince words.
And about those friends, she had strong advice. "Keep a small group of friends, they will be friends for life, but choose your friends wisely. You are known by the company you keep," she said.
"If you see a friend doing something that you know is wrong, tell them. You might lose the friend, but you will know you've done the right thing."
Commissiong is a Cancryn alumnus, a fact that resonated with her audience.
"I was raised by a mother who was making $4.25 an hour," she said. "I got a job when I was 13 making $5 an hour so I could get the things I wanted. I applied for grants and loans and graduated from college. You can do that, too!"
The students had breakout sessions following the talk with an impressive array of local professionals – Innovative engineer Lena Steel-Williams and nurse Dianne Ruan, pediatrician Dr. Reva Richardson and gynecologist Dr. Christine Lloyd ; Zumba instructor Christine DeJongh; government representatives from the departments of Tourism, Licensing, and Education; Soul Creations by Linda Baily; dentist Kimberly Moore; and WAPA engineer Leechea Smith.
Sessions were organized under the watchful eye of Pilgrim and Kisha Corbett, who was in charge of the conference committee and who managed to gracefully be five places at once.
Pilgrim said, "The conference is about building self-esteem, etiquette, preparing the girls for success. It helps us re-enforce some of the life lessons that we try to impart every day."
The principal was delighted with the day's energy and attendance. "We used to have Mother/Daughter Day on a Sunday," she said, but when UVI started the Man Up conference, I saw a way for the girls to get more involved. The teachers have a passion for it, and it's wonderful for the girls to have their own day."
The day's messages weren't lost on student Monae Greene, who without missing a beat launched into what meant the most to her.
"I know if you love yourself and give that love, it will come back to you," Greene said. "I have lots of different friends, Puerto Rican, some from the Dominican Republic and Haiti. They're very different from me, and we really care about each other."
"In fact," she said, "I'm kind of our counselor. They come to me with their problems, like issues with parents, and if I can help them, I will."
Greene said her heart, however, lies in science, not psychology. "I love chemistry," she said, but she couldn't talk further of her plans for study because it was time to change for the fashion show, where students modeled clothing made from recycled materials.
The long hallway facing the school's quad was transformed into a model's runway, with thick pink paper substituting for red carpet. Students lined up on the sides, cheering each other on, as the models slinked down the runway.
Recycling has never seen a more glamorous day. The costumes ran the gamut from a dress constructed from Capri juice packages to those made from paper towels, plastic bags, newspapers, and bright poster board dresses. Many had pleats and pretty paper flowers adorned almost everything.
There were fabrics of woven bamboo, a dress of leaves, long dresses, short dresses of shiny birthday paper. You get the idea. These students were creative.
This was the first year for the fashion show, but judging by the looks of Pilgrim and her gaggles of girlhood, it won't be the last.