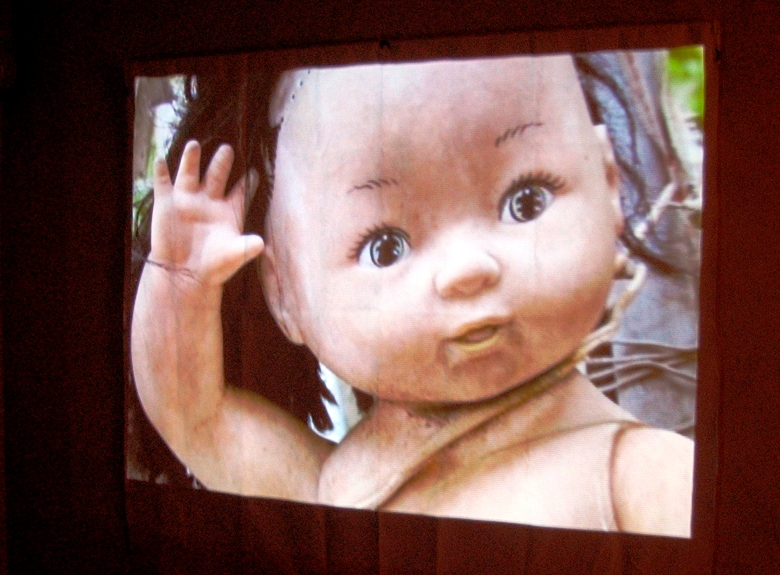 With entertainment at various Cruz Bay venues, the 12th annual St. John Arts Festival kicks off Feb. 18 with Love City Pan Dragons youth steel pan orchestra playing in Cruz Bay Park from noon to 5 p.m. The Love City Leapers jump rope team will perform in the park from 2 to 2:30 p.m.
The action shifts at 8 p.m. to the St. John School of the Arts for a VIP Mini Film Festival. Admission is free. Submissions for the festival are due by Feb. 15.
"VIP stands for Virgin Islands Productions, and you don't have to be a professional," according to co-curator Janet Cook-Rutnik.
Cook-Rutnik co-curates the film festival with art professor and artist Sigi Torinus.
She said the festival provides an opportunity for people to see contemporary work being made by artists.
"There are traditional narrative-type documentaries to abstract works dealing with images and sound," Cook-Rutnik said.
The first VIP Mini Film Festival, held in 2010, included videos ranging from funny home movies to professional animation and award-winning videos by international artists.
Cook-Rutnik asked that local filmmakers and video artists from all three Virgin Islands submit short pieces for inclusion in the festival. She said that at the previous film festival, about a dozen works from nine artists were screened.
Following the screening, producers will have a chance to talk about their work and presentations.
On Feb. 19, the Arts Festival features a Gospel Concert from 2 to 3 p.m. in Cruz Bay Park. At 3 p.m., the Mongo Niles Dancers will perform. Students at the St. John School of the Arts will perform at the school at 6 p.m.
Feb. 20 has Koko and Sunshine Band performing in Cruz Bay Park from 12:30 to 4:30 p.m. Mocko Jumbies will be on hand from 2 p.m. and the Caribbean Ritual Dancers will perform in the park from 2 to 2:30 p.m.
Inner Vision Reggae Band will play from 12:30 to 4:30 p.m. Feb. 21 in Cruz Bay Park.
Samba Combo plays from 12:30 to 4:30 p.m. Feb. 22 in Cruz Bay Park.
For those interested in submitting short films to the festival, Cook-Rutnik said submissions should be in DVD format and run 10 minutes or less. Exceptions may be made, so those working in film or video should contact her.
DVDs should be sent or delivered to the St. John Mail Center in the Marketplace shopping center. The address is c/o Cook-Rutnik, PMB 192, 5000 Est. Enighed, St. John, VI 00830.
Include name, telephone number, email address, mailing address and any other pertinent information with DVDs. Notice will be sent out immediately regarding selection.
Those planning to submit works should advise Cook-Rutnik as soon as possible at cookrutnik@gmail.com. Also use this email address to request more information.
Throughout the five days Caribbean food, arts and crafts will be exhibited an on sale in front of the Tourism Department Visitors Center, located adjacent to the post office. The hours are 10 a.m. to 5 p.m.