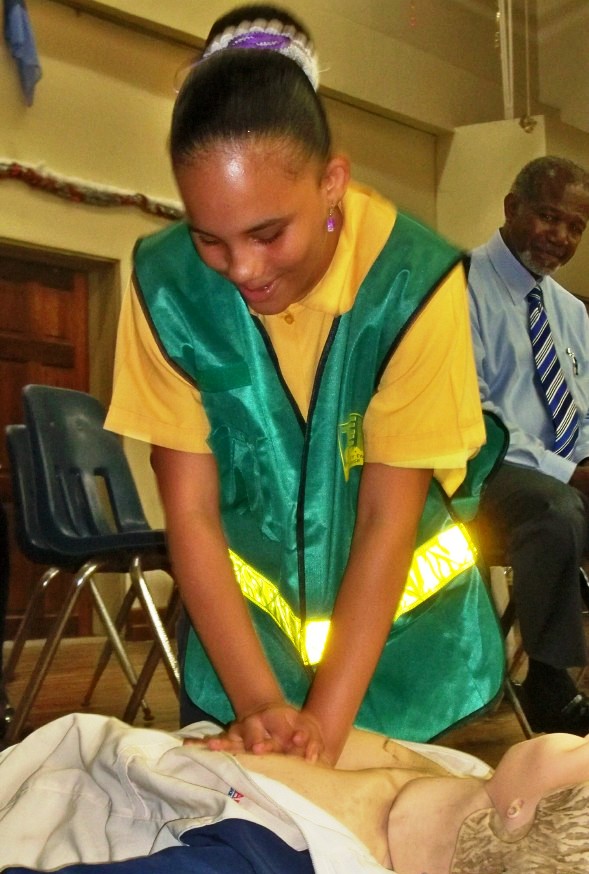 Around 45 students from Elena Christian Junior High School will be ready to give assistance in medical and natural disasters after completion Sunday of the Teen Community Emergency Response Team (CERT) program.
The students began instruction Wednesday on skills such as fire safety, light search and rescue, disaster medical operations and team organization. Last week CPR was the focus of a special two-day session.
The Virgin Islands Territorial Emergency Management Agency (VITEMA) sponsors the program, and St. Croix Rescue held an opening ceremony for the students and parents in the school's auditorium.
VITEMA Director Elton Lewis said 'Teen CERT' isn't an easy program. The students will have to study and take written exams to become certified, he said.
"These students will have the necessary tools and knowledge to support the school staff and their colleagues in the event of an emergency," Lewis said. "It would be wonderful to have all the teens be a part of a cadre to support and assist in the Emergency Operations Center."
He noted the timing of the program is right on time with the 2012 hurricane season only five months away.
Eighth-grader Donte Harris said the program was very helpful. "This will be a big help in life – whether it is with my family or the community," Harris said.
Teen CERT will culminate Sunday with a mock full-scale disaster exercise and certificate presentation at the St. Croix Rescue Academy in Five Corners.
The planned disaster scenario is kept secret from the students. The mock exercise is meant to test all of the disaster response and management skills students learned in the classroom.
Completion of the program means that the Elena Christian Junior High School will have within its campus, students qualified to assist others following an event when professional responders are not immediately available to help.
VITEMA launched the Teen CERT program in the Virgin Islands last April at the Seventh Day Adventist High School as part of a pilot program created to educate and train student volunteers nationwide in preparing for disasters that impact their areas. Programs have also been held on St. Thomas.
"It shows that the students are concerned with the well-being of their families and the community as a whole," Lewis said, "and we applaud them for that."
The students will get more than 50 hours of classroom training from certified CERT instructors from St. Croix Rescue. The instructors are Jerry Galloway, Modestus Jean Baptist, Eugene Phipps, Dave Goodwin, Aleric Gardine, and retired police officer Cpt. Jeremy Swan.
Teen CERT, an offshoot of the adult CERT program, falls under the umbrella of the Citizen Corp Council, a national organization created by President Bush in 2002 to help coordinate volunteer activities that will make communities safer, stronger, and better prepared to respond to any emergency situation.
St Croix Rescue Chief Gregory Richards said the program is a life changing experience for students and some may choose careers in the medical field.
Teen CERT certification is also available to faith-based communities, youth organizations and members of clubs and civic organizations.
For more information about Teen CERT, contact Al Javois, VITEMA's deputy director for preparedness, at 773-2244 ext. 222.