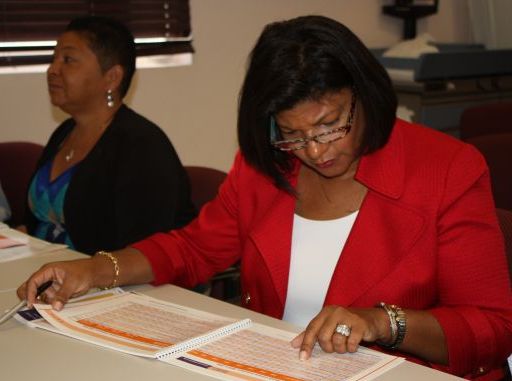 While the territory was faring better than the states on infant death rates and low birth weight numbers in 2009, presenters at this year's Kids Count press conference said that there are still several "alarming" factors the community should be aware of.
This is the 12th year that the Community Foundation of the Virgin Islands has presented its Kids Count data, which is done in conjunction with funding from the Annie E. Casey Foundation and partnerships with local nonprofit organizations, the V.I. Police Department, and other government departments such as Human Services, Education, and Health, which help provide the data.
The theme of this year's data book is "Investing in Our Children's Future," which presenters said underlined a greater need for more support in the area of quality early childhood education programs and facilities. While the economy is still rebounding, the numbers do show why such an investment is needed right now, they added.
In the "positives" category for 2009, the data showed that in the past decade, the: number of children in the territory decreased from 32 percent to approximately 23.8 percent of the total population; the average median income for families increased from $30,530 to approximately $43,691; and that the territory's low birth weight rate lowered to approximately 8.1 percent.
However, the number of V.I. girls, aged 15-19, that are having babies increased to approximately 51 out of every 1,000, which is higher than the national statistic of 41 out of every 1,000 girls aged 15-19, and a jump up from the territory's 2008 numbers.
And while the juvenile arrest rate has gotten slightly better from 2008, the book shows that approximately 673 out of every 100,000 youths, aged 10-17, are still being picked up for violent crimes.
The percentage of children living in single family households has also gone up, from 56.6 percent in 2008 to 58.8 percent in 2009. According to Kids Count Director Judith Richardson, children growing up in a home with only one parent are five times more likely to be poor.
According to the numbers, the poverty threshold in the territory was $21,756 for a family of four with two children under 18. Based on that, Kids Count showed that the number of families living below that threshold in 2009 dropped from 22.5 percent in 2008 to 21.3 percent. Though there was a dip in the median income, it was also slight, from $43,949 in 2008 to $43,961 in 2009. However, those numbers are still far lower than the national rate, which is $60,088 for median income, and Richardson said that the 2009 numbers also do not factor in any major impacts brought on by the national economic recession, which really began to hit the territory in 2009.
"We are likely to see a further increase in the next few years," Richardson said. "We are also seeing a greater reliance from families on public support programs, which may also help keep poverty figures steady for now."
A big indicator, she added, is the territory's unemployment rate, which jumped from 5.8 percent in 2008 to 7.6 percent in 2009. With more household heads in the unemployment line, and government leaders looking to trim expenses, the "lesson is clear," Richardson said.
"Supporting our children now is not only the right thing to do, it is the best investment we can make," she said.
Richardson said that education statistics in the territory showed that a large number of incoming public school kindergarteners do not have the necessary skills. On their LAP-3 tests, which are given by the Department of Education to incoming kindergarteners, in all areas except gross motor skills more than 20 percent performed below age level.
Performance on the annual VITAL exam for 2009 was equally low, with 55 percent of all fifth graders testing below grade level in reading, and 41 percent testing below grade level in math.
For seventh grade, 73 percent tested below grade level in reading, while 45 percent tested below grade level in math. Another 61 percent of the territory's 11th graders tested below grade level in reading, while 52 percent tested below grade level in math. Based on report card scoring, that would equate to an "F" for those students in the reading and math subject areas, Richardson said.
To boost the numbers, Richardson and other speakers said that CFVI and its partners are working on initiatives to help get early childcare providers more in tune with the needs of their students. New rules and regulations have been created through the Department of Human Services – requiring a minimum of 120 hours of training and credentialing from a national body for caregivers – and new early learning guidelines for infants and toddlers are being introduced later in the year.
Ellie Hirsh, director of The Family Connection for CFVI, said the early learning guidelines will also target those children that are not in day care centers but who may be under the supervision of a family member.
"Those guidelines talk more about how to interact properly with children, and what they should know, what skills they should have by age 3 or 4," Hirsh said. "We need people to talk more with their children, even if it's when they are doing simple things like cooking or doing the laundry, just making them part of the conversation helps."
First Lady Cecile deJongh, who heads the government's Children and Families Council, suggested Wednesday that future Kids Count books also look at comparing the performance of students in the territory's public schools to those in the private schools to bring in more comprehensive and relevant data.
More information can be found at: datacenter.kidscount.org.