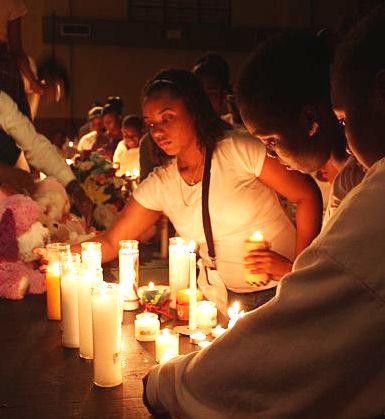 When the music stopped in Ivanna Eudora Kean High School's cafeteria Monday evening, all that could be heard was the sound of crying as throngs of students shuffled toward the stage carrying dozens of flickering candles that lit up the darkened room.
The students placed these objects on the ground one by one, many offering up silent prayers and huddling against a parent, friend or teacher as they paid tribute to the two students who were killed early Sunday morning after being struck by an alleged drunk driver who veered over the sidewalk while they were jogging near the Donoe Bypass on St. Thomas.
One of the girls, Aliya Robles, was an 11th grader at Kean, while the other, Jolicia Wilson, also attended the school. A third individual, 18-year-old Shatina Garnett, was critically injured in the accident and is said to be fighting for her life after being airlifted to the mainland on Sunday.
Kean's students were inconsolable Monday morning, and counselors were brought in during the day to help them cope with their emotions. In the cafeteria, school guidance counselor Rhona Pinney-Simon encouraged 10th and 11th graders to share their fondest memories of the victims and to support one another as they waited to hear more news on Garnett's condition.
While the tears were flowing, the students opened up, each sharing stories about Robles' smile and vivacious personality, along with Wilson's humor and wit. The grieving session went well, Pinney-Simon said afterward, adding that it's important in the mourning process, particularly for youngsters who have had little experience with death.
Kean seniors took it a step further, however, and spent the day putting together Monday night's candlelight vigil, which brought out a packed crowd of at least 100 mourners despite having been organized at just 11 a.m. Facebook and text messages were sent out, and the students even made calls to the media to get them to come out and share the girls' – and the school's – tragic story.
A text sent out Monday afternoon by Kean senior Denisha Thomas said, "In loving memory of our precious ones Aliya Robles & Jolicia Wilson, and in support for Shatina Garnett, we are asking that everyone come out tonight."
Thomas suggested people "white and bring lit candles, teddy bears and flowers."
"We know it's a bit early, but we need to show our support to the families and friends, and to each other," Thomas wrote.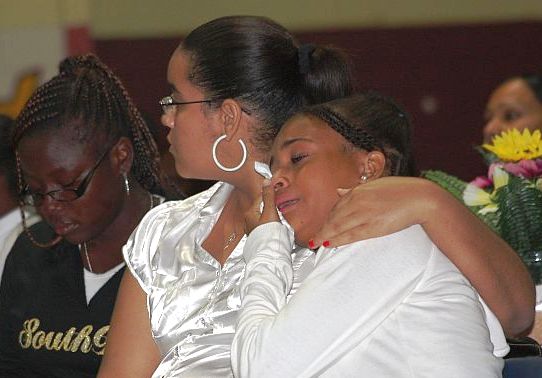 Thomas said Monday night that she and classmate Cami Vanterpool were inspired to organize the vigil after seeing the somber atmosphere on campus earlier in the morning.
"It just wasn't the same," Thomas said. "I knew that everyone needed to come together for support, to talk about these girls, our friends, and to express their hope and faith that Shatina will come through this."
Thomas said that she and Wilson became close friends while attending Bertha C. Boschulte Middle School.
"We used to get in trouble all the time," she said, "to the point where our teacher used to have to separate us." The two maintained their friendship at Kean, where Wilson's fun loving spirit was not lost on the rest of the student body.
"She was the sort of person that when you were mad, or felt like you were going to cry, she would cheer you up or try to make you laugh," said Vanterpool, who is also Wilson's cousin and close friend.
Both Vanterpool and Thomas also shared fond memories of Garnett, who graduated from Kean in June 2011 and was represented Monday night by her sister, Tiandra Garnett.
"We just did everything together," Tiandra Garnett said on stage Monday, weeping as she clutched a ruffled lavender bunny from home. "I feel so empty without her."
Tiandra Garnett said the family has been taking care of her sister's son as they wait and pray for her to come home. In a touching moment, Tiandra added that she is not mad at God for what happened to her sister, that she "couldn't cuss or yell," because she knew that whatever happened, her sister would be taken care of.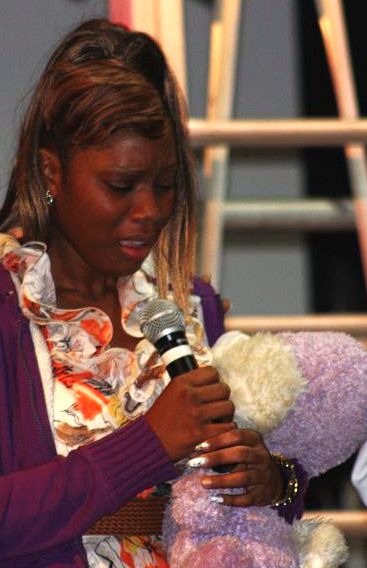 The crowd watched silently as Tiandra Garnett shuffled off stage and put the stuffed toy down with the others laid out in tribute. She stood for a minute, still crying, before making her way back to the tables where Robles' and Wilson's families also sat, holding onto one another.
"God spread your wings of protection over us as you grant us the serenity to accept those things we don't understand," Thomas said in prayer during the vigil, as students kept coming up to put their candles on stage.
Thomas and other students also sought comfort Monday in hymns and religious ballads that they said were meant to give them strength, including Tamela Mann's "Father Can You Hear Me," which was sung in honor of Garnett.
Twice during the vigil, Kean seniors Kino Bonelli and Adisha Donovan were brought up to sing Kathy Triccoli's "Go Light Your World," which served as moving background music for the lines of students that filed down from both sides of the room to offer up their candles.
School Principal Sharon McCollum said at the end of the ceremony, "I continually say to the students and staff that here at Kean, we are a family, and that has been demonstrated here today." McCollum said the school will continue to be open to the victims' families in the days or weeks leading up to the funerals, and both the color guard and JROTC battalion will be available if needed.
Kean students and staff will also be releasing, at a later date, a statement against drunk driving, which the school's counselors said Monday has claimed the lives of at least two other V.I. students over the past few months.
McCollum bid the audience farewell around 7:30 p.m., while the waning strains of steel pan filtered out the cafeteria door from the Kean High band stand set up near the stage.
"Please get home safely," McCollum said, as the crowd's members sighed and got up to embrace each other once more.
Editor's Note: Ananta Pancham contributed information to this story.