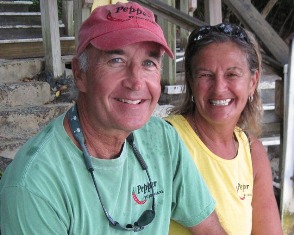 Fred Renner and Renee Proctor didn't let a bit of rain last week dampen their enthusiasm for taking guests sailing on Pepper, the 23-foot sloop from which they operate day sails out of Maho Bay Camps. The sailing trips include guided snorkeling, an activity both Renner and Proctor enjoy because they get to showcase the island's underwater life. Proctor is also an avid underwater photographer who shoots photos while on and off the job.
"I like the fact we take out people from Maho," Proctor said. "They're fun, adventurous, interesting people."
That description also describes Renner and Proctor, who met in 2000 at Maho Bay. Both were participating in the campground's four-hour worker program that provides tent housing and discounted food in exchange for labor.
Since meeting, the couple has done "this and that" to stay afloat on St. John and other places, and they've put many of those adventures into words with their book, "Between the Sheets." The book is a hoot.
While Renner and Proctor like a simple lifestyle and have a strong conservation ethic, one of their jobs included cleaning a big-bucks rental villa where simplicity and conservation were unknown concepts. Their adventures at the villa provided plenty of fodder for "Between the Sheets," a play on words that refers to the sheets, or ropes, on their boat Pepper as well as to the sheets on the beds of that mega villa.
"In the three days since we were there, two adults and eighteen-month-old have used forty-two towels!" they wrote. "How much do they need to consume, waste, or abuse?"
Renner, 62, grew up in Scituate, Mass., and has a background in business. He was a partner in a company that sold construction tools. Over the years, he vacationed at Maho Bay several times. On the last trip before he made the move permanent, he went sailing on board Pepper, learned that the Coral Bay-built boat was for sale, and jumped at the chance to buy it. He went back home, got his captain's license, buttoned up loose ends and moved to St. John.
Married for more than four years but together for more than 11, Renner and Proctor both thrive on their jobs.
"You won't believe how many people say they want our jobs," Renner said.
Proctor, 56, was born in Hicksville, New York, but trekked off to Minnesota for 20 years. Along the way, she worked as an aerobics instructor, bartender and as a cruise ship activities director. After a failed attempt to open a business in Barbados, she headed to Maho Bay. Following the four-hour worker stint, she worked as the campground's breakfast cook, bartended at Skinny Legs Bar and Restaurant and cleaned houses.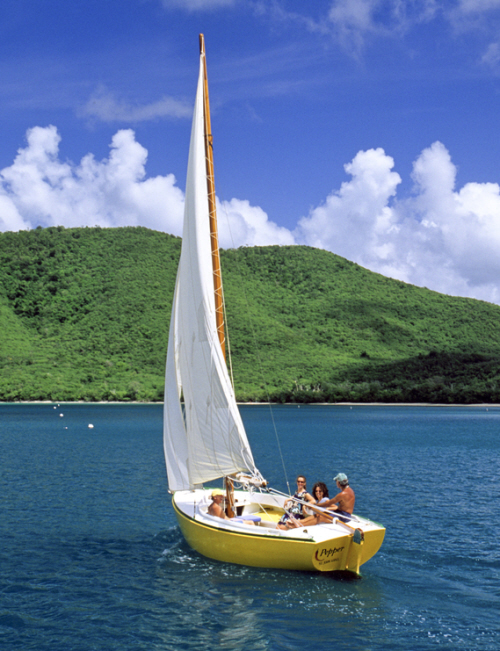 The two now are caretakers for a vacation villa in Coral Bay that comes with a place to stay in exchange for villa maintenance and more.
As for their future, it's as uncertain as that of Maho Bay. The campground's lease runs out in 2013, and so far, the Trust for Public Land hasn't been able to negotiate a sale of the land to the National Park Service so it can become part of V.I. National Park.
They have a small house on an island off Panama, so they said that's an option — as is visiting multiple national parks around the country in a Westphalia camper. But for now, Proctor said she likes to spend time cooking. Renner enjoys playing the keyboard. And they just like taking people out sailing and being with each other.
"We're together more than most married people," Proctor said.
Visit www.sailpepper.com.